D.C. Mayor Gray Cuts the Ribbon for Renovated Douglass Playground
3/28/2014, 11:01 a.m.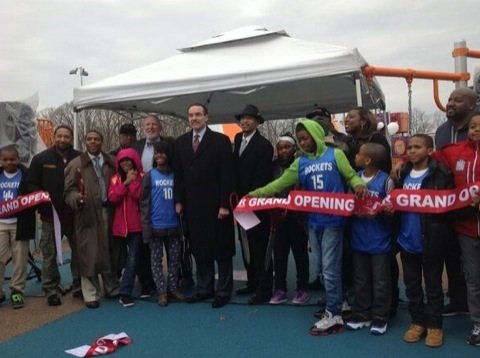 D.C. Mayor Vincent C. Gray joined city officials and community members Friday at a ribbon-cutting ceremony for the Douglass Community Center's newly renovated playground in Southeast.
Students from Turner Elementary School also attended the ceremony for the playground, the design of which is centered around the life of the historic abolitionist, author, social reformer and statesman Frederick Douglass.
"We are pleased that each Play DC play space embodies its own significant theme that characterizes the neighborhood," said John Stokes, the Department of Parks and Recreation's chief of staff. "What better way to pay tribute to one of the greatest abolitionists of all time, than we do here in Ward 8 for Frederick Douglass? The children have an opportunity to bring the elements of play into this space, and they can also step into the life of Frederick Douglass and bring his experiences to life."
Born in Maryland, Douglass was a resident of the District of Columbia, and his home is a national historic site in nearby Anacostia. The playground design builds on a theme of memorial groves, which represent three instrumental phases and places in Douglass' life.
The playground is one of the 32 new play spaces originally designated for renovation under Gray's "Play DC: Playground Improvement Initiative" in 2012. For the new fiscal year, Gray added eight more playgrounds, bringing the total to 40, making Play DC the largest playground renovation project in the District's history. The Douglass community, along with Ward 8 stakeholders, attended community engagement and planning meetings with DPR and DGS to finalize the project.
"The Department of General Services was honored to design and construct the new playground, which pays tribute to Frederick Douglass and provides the community with a play space that includes the District's first constructed zip-line, a community garden and play areas for residents of all ages," said Brian Hanlon, director of the Department of General Services.
New features at the Douglass playground include ground net climbers, green roof pavilions, a free-standing rhythm spinner, walking trail, fitness stations, basketball courts and more. Douglass is also the first DPR playground to feature a zip line, an aerial rope slide.
DPR currently operates 92 playgrounds in the District. To date, the following 24 playgrounds have been renovated and are now open:

Ward 1 – Harrison, Banneker;
Ward 2 – Volta Park;
Ward 3 – Palisades, Macomb, Key Elementary School;
Ward 4 – Raymond, Emery, Takoma, Hamilton, Fort Stevens, Upshur;
Ward 5 – Noyes, Harry Thomas Sr., Brentwood; Turkey Thicket
Ward 6 – Rosedale; Kennedy
Ward 7 – Neval Thomas Elementary School, Benning Park, Hillcrest;
Ward 8 – Fort Stanton, Fort Greble, Douglass.