Soul In Motion Celebrates 30 Years in the Arts
3/28/2014, 10 a.m.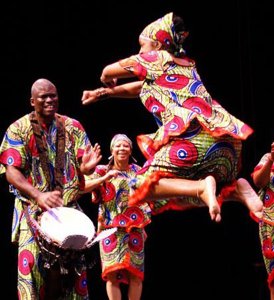 Soul In Motion will celebrate three decades in the performing arts at the F. Scott Fitzgerald Theater in Rockville, Md., on April 19 at 8 p.m.
The program will feature prominent dance companies from D.C., Pittsburgh and Atlanta.
Soul In Motion 30 brings to the stage a celebration of West African drumming and dance, South African Gumboot, and Modern and Contemporary Dance from the richness of the African-American culture Soul In Motion will present a premiere of Akroma, directed by guest choreographer Adjetey Klufio.
Akroma is a masterful blend of traditional West African dance and drumming, used to bring about peace and unity among the people of Ghana in the 1950s and later named a traditional dance.
Soul In Motion 30 will also showcase high-energy guest performances from Balafon West African Dance Ensemble, Pittsburgh, PA, directed by Mama Kadiatou Conte, a native of the Republic of Guinea and formerly of the world-renowned Ballets National Djoliba; Farafina Kan; Coyaba directed by Mama Sylvia Soumah; An Ka Fo from Atlanta, GA; Taratibu Youth Ensemble; Vision Contemporary Dance Ensemble; and Rockville's own The Finest.
Ticket prices: General admission, $30; student/seniors/artists, $25; youth, $20.