Tommy Wells: Public Service is His Calling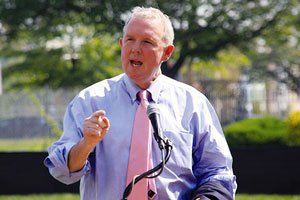 If one looks at D.C. Council member Tommy Wells' resume, it's obvious that while he has educational credentials that would merit a lobbying career on K Street or at a prestigious law firm or non-profit in Washington, he has opted instead for the public service route. His political career shows the breath of his public service: Wells is the only candidate in the race for District mayor who has served as an advisory neighborhood commissioner, an elected member of the District's school board and on the D.C. Council.
One would also note that while on the D.C. Council, he has established himself as one of its progressive voices, much to the chagrin of some leaders in the District's vibrant and politically-active business community. In the race for the Democratic Party mayoral primary that will take place on Tuesday, April 1, he has made it clear that he will not be a tool of corporate interests.
"I have made it clear from the start of this campaign that I will not take corporate contributions," said Wells, 57. "I believe that corporate contributions corrupt city politics and that is why D.C. is in the state that it is in politically, with all of the scandals that have taken place and are being investigated."
Wells is a native of Austin, Texas. He received his bachelor's degree from the University of Alabama in Tuscaloosa, Ala., in 1979 and a master's degree in social work from the University of Minnesota in Minneapolis, Minn. in 1981.
"A professor of mine told me about the District while I was in Minnesota," he said, "so I decided to visit. I liked the diversity that I saw in the District and decided to stay."
Wells started working in the District's child protective services agency in 1985 but he also studied law at night at Catholic University's Columbus School of Law in Northeast. He received his law degree in 1991 and unlike many law school graduates he decided to stay in the social services profession instead of pursuing a more lucrative legal career.

In 1992, he became the director of the D.C. Consortium for Child Welfare, an umbrella organization of 20 non-profits that serves the city's children and families.
Wells started his political career when he became concerned about his neighborhood in Ward 6 and decided to run for the unpaid advisory neighborhood commissioner position in 6B. He served as a commissioner from 1995-2000 and chaired 6B from 1999-2000.
Wells moved up politically in 2001 when he was elected to the D.C. Board of Education representing Wards 5 and 6. In 2006, he won the Ward 6 D.C. Council seat that Sharon Ambrose vacated.
Francis Campbell, the advisory neighborhood commissioner for 6B10 and a leader in the fight to develop Reservation 13 in Southeast with the input of neighbors, supports Wells for mayor but said that there has been political tension between the two.
"I have known Tommy since he was on the school board and we have not always seen eye-to-eye," said Campbell, 62. "I do take exception to some of his views on some issues and positions he has taken in the past but I still support him."