Tommy Wells: Public Service is His Calling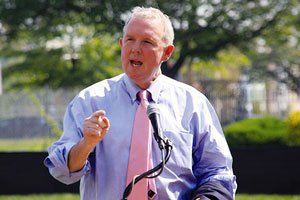 On the D.C. Council, Wells has authored legislation that would decriminalize marijuana, ban questions on an employment application regarding a criminal record and he has fought to protect the environment. The economic development of H Street, Pennsylvania Avenue in the eastern end of the District and Southwest has been influenced by him.
The soon-to-be-operational streetcars are his landmark contribution. He notes that streetcars will transport more people than a Metro bus and tend to be more cost-effective for residents and the District government.
Wells' passion for his constituents in Ward 6 impresses Ronald Williams, a Ward 8 political activist who is also a social worker.
"I love his demeanor and spirit," said Williams, 33. "Tommy has assisted people in overcoming challenges throughout his career as a social worker. He does not sit on the sidelines and he fights in the trenches for his people in Ward 6."
Wells has criticized D.C. Mayor Vincent Gray (D), an opponent, for retaining embattled fire chief Kenneth Ellerbe and for not being forthcoming about the 2010 mayoral campaign scandal. Campbell said that there's one thing you can trust Wells on.
"Tommy is good on ethical issues and he does listen and try to work with people toward solutions," he said.
Both Williams and Campbell say that District voters should ignore race when considering a vote for Wells for mayor.
"Even though he is a white man, the city will benefit from his vision and compassion," Williams said.
"People should look past race and for the greater good," Campbell said.