Local Students Excel at Engineering Convention
WI Web Staff | 3/31/2014, 11 p.m.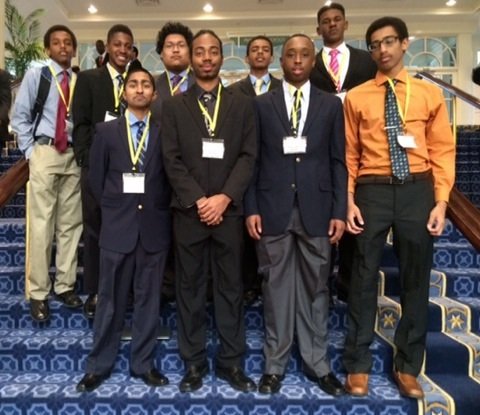 A group of Wheaton High School students triumphed recently at the National Society of Black Engineers' annual convention, finishing ahead of dozens of teams to place in the finals of the national NASCAR Ten80 Student Racing Challenge.
The Wheaton students are members of GapBuster Leaders-in-Training, a chapter of the society's junior program. GapBuster, Inc. is a nonprofit organization dedicated to empowering the community through education.
During the competition over the weekend at the NSBE's 40th national convention in Nashville, Tenn., the team placed second in the presentation category and third overall among 27 high school teams in the NSBE Points Race for the Ten80 competition.
"I am very proud and excited for our all our teams," said Yvette Butler, founder and executive director of GapBuster, Inc. "In my eyes, they are all winners. We had three teams compete in the NSBE NASCAR Ten80 student challenge and the Wheaton Knights rose to the top."
Nine students attended the convention as part of the Wheaton Knights, one of the three GapBuster teams that competed. Seniors Ashan Harischandra, Chris Cherrie, Omar Jawara, Romario Watson, Soulihe Nida, Tony Hernandez, junior Victor Kyle, and sophomores Mustaffa Said and Nadir Sharif represented the Knights. Harischandra, Cherrie, Nida and Kyle nabbed second place for their presentation.
For their third-place finish in points at the NASCAR Ten80 competition, the Wheaton team engaged in engineering investigations (studying aerodynamics and the automobile chassis), created a marketing and web presence encompassing graphics, web design and social media, and developed a business plan.
Through the NSBE Pre-College Initiative Program, GapBuster, Inc. has been able to expose middle school and high school students to STEM project-based learning and inspire them to learn about the fields while providing the opportunity to flourish regionally and nationally in various competitions.
The students also received an invitation to the Ten80 National STEM League 2014 National Finals in May. The NSBE Points Race winners from the National Convention will join the regular National STEM League teams in battling for the 2014 National STEM League Points Race championship on May 16-17 in Charlotte, N.C.
"We need community support more than ever as we build on their success," Butler said. "Our students are more determined to bring back the gold and can only do so with community support. To help our student get to the Finals in North Carolina, please donate at www.gapbuster.org or mail a check to GapBuster, Inc. P.O. Box 3356, Silver Spring, MD 20918 or call 301-779-4252 to find out how you can help."