Vincent Orange Exudes Confidence Ahead of Elections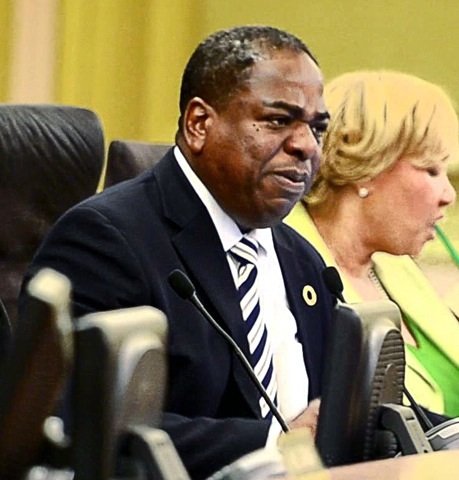 Vincent B. Orange believes that he's the best person to serve as Washington, D.C.'s next mayor.
And he is completely unabashed about saying that. Orange is one of eight Democratic candidates vying for mayor. D.C. residents will know the winner on the night of Tuesday, April 1.
Yet, throughout the course of a rough-and-tumble mayoral campaign, Orange hasn't been as much in the public view as one would expect from an experienced legislator.
"Keeping low is somewhat by design. I got in in November and there's a lot of ground to cover," he said during a wide-ranging interview on the afternoon of March 19. "I got in; there was no cash flow in place. And first, I had to get on the ballot.
Orange, 56, cited one reason for his relative lack of visibility.
"The Washington Post has ignored Vincent Orange, acting as if there are only three council members in the race instead of four," he asserted. "They just (recently) said that I was a plausible candidate. I have to stay focused and put on a campaign that will make people take us seriously."
Over the course of an almost 60-minute interview, the certified public accountant, lawyer, and auditor, stated his case, outlining in detail what an Orange administration would look like.
"Jobs, education, affordable housing," he ticked off. "Now you gotta look at this record: We were in the forefront to ensure that D.C. employees got their furlough pay; we fought and secured a minimum wage increase from $8.25 to $11.50 with annual increases for inflation; we secured five days of sick leave, with pay, at the minimum wage for tipped wage employees."
"We also got the [D.C.] Council to sign into being investments of $1 billion over 10 years."
Of that amount, $25 million a year is allocated to assist seniors on fixed incomes; $25 million annually goes to the homeless; and $100 million over 10 years will finance affordable housing, helping households which make between $30,000 and $60,000 a year. Orange also proposes that 1,500 low-income units be built at Lincoln Heights, Deanwood, Barry Farms, Temple Courts in NoMa, and Park Morton in Parkwood.
"This government is a $12 billion government with $1.75 billion in reserves and coming off a $100 million surplus. It's a travesty that we have 4,200 people sleeping in shelters," said Orange. "Mayor Gray's bill says that you can be turned away if you don't live with someone approved by the city. We don't need $287 million in the Affordable Housing Trust Fund. Spend the money… We need an attitude change and utilize the money on behalf of the people who need it."
Orange, who has served as an At-Large council member since 2011, said the watchword for his campaign is "leaving no one behind and taking no one for granted." His administration would focus on closing the income gap, keeping jobs and revenue in the city and closing the achievement gap, he said.
The Oakland, Calif., native uses his experiences growing up as a reminder of how giving people access to opportunity can transform lives. He grew up in a single-parent household with seven sisters and two brothers, won an A Better Chance (ABC) scholarship to attend a nationally recognized prep school in Colorado Springs, Colo., benefitted from a strong public school education and went on to earn degrees in Business Administration and Communications from the University of the Pacific. He headed East in 1980 to attend Howard University Law School, met the love of his life, Delores, and never left the District of Columbia. Orange has a Master of Laws degree in Taxation from Georgetown University.