Vincent Orange Exudes Confidence Ahead of Elections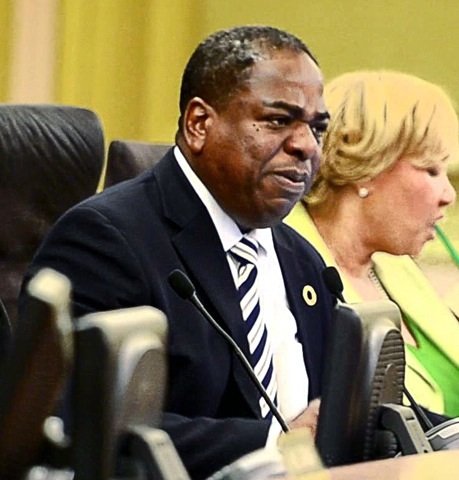 The Ward 5 council member from 1999 to 2007, Orange said there really is no need to reinvent the wheel as it pertains to catering to the needs of the District's residents. He pointed to the plan for the economic resurgence of District residents, which is 40 action items developed by local leaders including Alice Rivlin, former Mayor Anthony A. Williams and former Council member Charlene Drew-Jarvis and Linda Cropp.
"Forty action items helped dig us out of a $580 million deficit and the (NoMa) Metro Station was Action Item #29," he explained. "We raised $100 million to build the station – $33 million from D.C. government, $33 million from the federal government and a $33 million assessment on local businesses. Currently, we need 55,000 units of affordable housing and 19,000 apartments for those young people who can't afford to buy a house."
"Meanwhile, (former Mayor Adrian) Fenty and Gray have hoarded the money. They have all these dollars and people are suffering."
Orange said that despite school reform, 87 percent of low-income children are not proficient in math or reading, 49 percent of 4th-graders lack proficiency in those same subjects and 59 percent of District of Columbia Public Schools students drop out before graduation.
"In an Orange administration we're going to fix that problem," he promised. "We need to get 3-and-4-year-olds and get them trained for kindergarten. We also need assessments and wraparound services, if necessary, because a child could be coming from a home where he or she is hungry or where there may be other issues that have an impact on that child's ability to learn."
"Third and 4thgraders must be able to read independently, subtract, add, and divide. Without these, they cannot make the transition to middle school. Without the basic foundation, children will drop out."
He points to McKinley Tech as one of the clearest examples of his commitment to education.
"School reform started when I was Ward 5 council member and we renovated McKinley," he said. "We had a 90 percent proficiency in math and reading. We received an award from President Obama. When the School Without Walls and Banneker kids complained about not having books, I mandated through legislation that they would get their books no later than the second week of school."
With regard to jobs, Orange argues that merely creating jobs as Mayor Gray announced isn't enough.
"This government is saying that it will create 100,000 jobs. My point is that there are only 30,000 unemployed D.C. residents," Orange said. "We should be talking about zero unemployment. We should be training our residents, do a profile of their education and skills and do an overlay to see what needs there are."
The process would also bring the University of the District of Columbia to provide residents the training they need for jobs coming online and keep the institution solvent.
Orange, father of four and married for 30 years, is at turns animated, pushing forward or spreading his arms to make a point, his eyes lighting up or clouding with seriousness depending on what he's discussing. He clearly relishes his job, throws out statistics effortlessly, digs down into minute details of policy and politics and is excited about the chase for chief executive.
When asked, he weighed in on the Gray campaign imbroglio. Gray has been accused by a campaign donor, Jeffrey Thompson that he was fully aware of a shadow campaign plan that injected more than $600,000 into his 2010 mayoral campaign. Gray has maintained his innocence while U.S. Attorney Ron Machen Jr. continues to investigate. Everyone, including Gray's attorney Bob Bennett, is expecting Machen to hand down an indictment. The only question is when.
"What's surprising is that he hasn't stepped aside to take care of these problems. It should be what's in the interest of the city," Orange said. "It affects the statehood movement and the integrity of citizens. We have a man saying 'I'm going to continue as mayor' while going through a trial."'
"Marion Barry, when he got indicted, he stepped aside and didn't take the city through this. Everywhere he goes, it's on people's minds. You'd have to be a superman, a superman to go through a major trial and also run the city. This is Gray's personal issue, not the city's. It's pretty damaging and it's sad … but you're innocent until proven guilty. Vincent Gray is innocent."