Mayweather Wins Majority Decision over Maidana
Showtime Boxing | 5/4/2014, 4:13 a.m.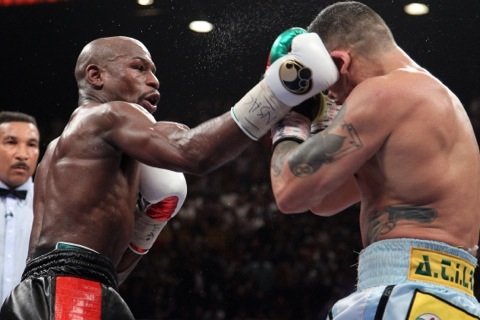 "Let's do it again," said Golden Boy Promotions CEO Richard Schaefer:
In the co-feature, British star Amir Khan floored Luis Collazo three times en route to a 12-round unanimous decision 117-106, 119-104, 119-104.
Khan (29-3, 19 KOs), in his first bout at 147 pounds, showcased his speed, footwork and precision from the opening bell. Khan landed 50 percent of his power punches and mixed in a dose of roughhouse tactics, which added up to a frustrating night for Collazo.
Both fighters were fined a point in the eighth at separate times by referee Vic Drakulich. With Khan holding Collazo's head down, Collazo was fined for a low blow. Just seconds later, Khan was penalized one point for holding.
"It was tough because Collazo was very awkward, but we pulled it together and came out with the win," Khan said. "It was a tough fight to debut at 147 pounds after a 13 month layoff. Not many fighters would take a fight like this. Especially with Collazo coming off of a big knockout win over Victor Ortiz."
After the fight, Khan pleaded his case in the Mayweather Sweepstakes.
"People want to see a fight between me and Floyd," Khan said. "Floyd hasn't seen speed. He's fighting people with explosive power. But styles make fights and I think my style will give him a lot of trouble."

Khan seemed more comfortable at 147 pounds and was able to inflict damage on the naturally bigger Collazo. He hurt Collazo (35-6, 18 KOs) with a left hook to the body in the 10th round, attacked and floored him against the ropes. Khan continued the onslaught, hitting Collazo with a relentless attack and dropped him again seconds later.
"I had to hang in there. That's how we do it," Collazo said. "His style was really hard. He kept grabbing me and it was difficult. Things happen. We'll see what happens next."
In his debut in the 140-pound division, three-division world champion Adrien "The Problem" Broner bounced back from the first loss of his career with a unanimous decision win (99-91, 98-92, 100-90) over Carlos Molina.
Broner (28-1, 22 KO), who was fighting for the first time since his surprising loss to Maidana last December, started slow and was hit by a crushing overhand right from the confident Molina in the second round. While locked up in the third, Broner wrestled and tossed Molina (17-2-1, 13 KOs) to the ground, earning a hard warning by referee Kenny Bayless.
Broner picked up the pace in the middle rounds and took control of the bout with an impressive inside fight game.
"I feel good. It was a comeback fight," Broner said. "I shook the cobwebs, looked good and got the victory.
"At the end of the day, I don't make my fights. I'll fight anybody. I'd like to fight (Manny) Pacquiao before he leaves."
Molina admitted to being frustrated by the speed of Broner.
"I felt I stayed in there too much," Molina said. "He's a fast fighter with a fast jab. It was tricky for me to time the jab and I felt frustrated. I was trying to do what my corner was telling me to do, but it didn't happen."