New Scholars Program Launches at Historic Church
5/4/2014, 11:17 a.m.
Historic Metropolitan AME Church on M Street NW provided the setting on Saturday, April 26, for a high-profile launching of a program for potential scholars and leaders in honor of Horace Dawson Jr., a veteran diplomat and ambassador.
Young men selected in their sophomore and junior years in D.C. public and public charter schools for participation in the program will be known as Ambassador Horace G. Dawson Scholars.
Titled "The impossible Dream," the two-pronged observance at Metropolitan consisted of a panel discussion and a service featuring such noted figures as Professor Michael Eric Dyson of Georgetown University; Denise Rolark Barnes, publisher of The Washington Informer; the Rev. David Malcolm McGruder of Morehouse College and Princeton Theological Seminary, who delivered the service's keynote address; D.C. Superior Court Judge Robert Rigsby and Ambassador George Haley.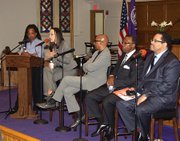 Music was provided by the Howard University Gospel Choir, renowned Philadelphia-based jazz band Jeff Bradshaw and Friends, and soloist Greg Watkins.
The gathering was welcomed to Metropolitan AME Church by the new pastor, the Rev. William H. Lamar lV. Dawson has been a member for more than 40 years at Metropolitan AME, where program founder and executive director Lelia Pray and her daughter, Joy, program president and student at Stanford University, are also members.
"This program is committed to enriching the educational journey of each young male scholar through. academic tutoring, college preparatory workshops, personal mentorship, and professional guidance," Pray said.
Two outstanding features of the program will be SAT prep and personal/professional grooming sessions.
Taking note of these, the panel discussion, moderated by Barnes, gave special attention to preparing students for college entry, leaning heavily on the expertise of Dyson, Herbert Tillery, director of College Success Foundation; Kpakpunclu Ezeze, founder and director of FututreQuest, lnc.; and Akosua Tyus, president of the NAACP's D.C. branch.
The panelists gave detailed instructions on developing study skills in high school, selecting and applying to colleges; and adjusting to college environments. A prevailing theme was that students should not be ashamed to pursue excellence.
McGruder encouraged parents to "inform your offspring of the meaning of those stories, the sacrifice they represent, and the history passing over them, as otherwise they will not know — and they need to know."
Also making presentations during the program were Joy Scott, Harrison Williams of Georgetown University, Morris Blaylock, a program board member representing the Mighty Men of Metropolitan, Olympian Samyr Laine; Judge Rigsby; Henry M. Thompson, director of recruitment at Morehouse College, and Ambassadors Dawson and Haley.