COMMENTARY: Donald Sterling Banned — Now What?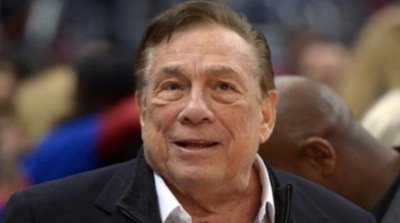 Every aspect of American life seems to be affected by racism in one form or another. Racism, what a mean, vicious, ugly… snake! For the handful of you who may think that snake is dead — think again!
The snake reared its head again recently, when recordings of a private phone conversation between Los Angeles Clippers owner Donald Sterling and girlfriend(?) V.Stiviano were made public.
By now, everyone has heard the recordings and Sterling is a household name, thanks to his insistence on keeping Stiviano from associating publicly with blacks or bringing them to Clippers games, even the beloved Magic Johnson.
Once the "fit hit the shan," so to speak, you can probably guess what happened next. Jesse Jackson blasted Sterling for his comments and insisted that he be forced to sell the team. Of course, Al Sharpton wasn't far behind, saying he was fully prepared to organize a mass boycott of the Clippers.
What isn't so predictable, though, is the league's next move. Will it continue to let the now-banished Sterling profit from the team? Does it have legal grounds to remove him as team owner, and is it even willing to enter into such a long and costly battle?
Of course, in the court of public opinion, the NBA doesn't have much choice but to pursue Sterling's forcible removal, an unenviable task. NBA Commissioner Adam Silver, he of less than 100 days of job experience, has been forced to deal with one of the biggest controversies in league history. With the league's reputation — and his legacy — on the line, he acted swiftly and harshly with the lifetime ban, but that won't satiate those calling for Sterling's head. For Silver to truly make this go away, Donald Sterling has to go.
The question is, can anyone make him?
Sterling, a lawyer himself, isn't going to simply roll over and relinquish ownership of his team. He's notoriously litigious — in some NBA circles, it's joked that his middle name is "courtroom" — and will fight tooth and nail to maintain ownership of his beloved Clippers, believe me. If the league plans to somehow wrestle away Sterling's team, it should be prepared for a long, difficult battle.
According to the NBA Constitution and bylaws, three-fourths of the league's other 29 owners would have to vote in favor of removing Sterling as owner. A foregone conclusion at this point, sure, but it's a vote each owner will cast warily, as such a decision could set a very dangerous precedent for them.
We've all said and done things that we're not proud of, billionaire sports owners included. None of them want to find themselves in a compromising position one day and suffer the same fate as Sterling.
Of course, Sterling's track record on race relations — NAACP commendations aside — makes it much easier to corral support to supplant him. He's earned millions of dollars as a callous Los Angeles slumlord who's been accused of refusing to rent to minorities. He's also been charged in and out of court with making racist comments and hiring policies by Clippers players and employees, including former team GM and NBA legend Elgin Baylor.
None of that seems to matter to Sterling, who has yet to step aside and shows no intent of doing so. With a net worth of approximately $2 billion, he's equally long on money and brash. After all, this is the man who's gone so far as to have Stiviano sit with him at courtside during the Clippers' home games — in his wife's seat!
There's even a growing chorus of supporters willing to brush aside his racially-charged comments to defend him, arguing that's he's a victim of a greedy shakedown artist who violated his privacy with illegal recordings (she claims he OK'd the tapings, for what it's worth). Such support can only embolden the already-defiant Sterling, who was gutsy enough to reportedly dine at a high-profile L.A. eatery even amid the media firestorm he's faced.
Nothing about the entire situation has been easy to peg, but no matter what happens next, you can be certain of one thing: Donald Sterling — and the snake that is racism — will not go quietly.