Nation to Celebrate Annual Train Day on May 10
amtrak.com | 5/5/2014, 2:16 p.m.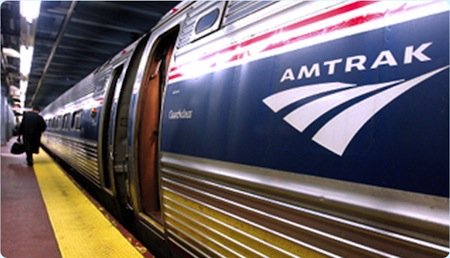 The seventh annual National Train Day on Saturday, May 10, 2014, has its best-ever slate of programming, with 210 locations in 43 states already signed up to celebrate why Trains Matter. Amtrak welcomes more events by encouraging rail passengers and enthusiasts to host their own National Train Day 2014. Details on each event and information on how to host are posted at www.NationalTrainDay.com and additional communities are welcome to participate.
Communities in all 50 states celebrated the importance of trains last year by hosting a National Train Day event at local train stations, railroad museums and other locations.
Fourteen communities have special activities as part of this year's event: Albuquerque; Cary, N.C.; Chicago; Emeryville, Calif.; Jacksonville, Fla.; Kansas City, Mo.; McComb, Miss.; New York; Philadelphia; Portland, Ore.; Rutland, Vt.; San Antonio; Seattle and Washington, D.C. will welcome these partners in support of National Train Day:
Amtrak Vacations, Chuggington, Anchor Bay Entertainment, Dovetail Games and Operation Lifesaver are Amtrak partners.
• Chuggington, the hit preschool television series on Disney Junior, will provide free train-themed kids' activities at National Train Day events. The Chuggington Kids Depot will feature a variety of hands-on learning stations including arts & crafts, photo opportunities, and train play tables. Select locations will feature a special screening of "Explorer Koko," presented by Anchor Bay Entertainment, in the designated Kids Area. Families can download digital Chuggington coloring sheets at NationalTrainDay.com.
• Dovetail Games will also be offering a free download of the Amtrak Pacific Surfliner version of the hit game "Train Simulator 2014." Attendees at the New York Penn Station location of National Train Day will also have the exclusive opportunity to operate the simulation of the new Amtrak ACS-64 passenger locomotive and meet Gary Dolzell, co-creator of the content found in the game.
• Operation Lifesaver, whose mission is to end collisions, deaths and injuries at railroad crossings and on rail property, will be handing out free giveaways and providing interactive opportunities to learn more about rail safety and promoting its new "See Tracks? Think Train" campaign. Amtrak and other railroads are railroads are major supporters of the campaign. "Our partnership with Amtrak is an enduring one, based on a mutual interest in keeping people safe whenever they are around train tracks," said Operation Lifesaver President and CEO Joyce Rose.
• Select National Train Day locations will offer attendees a rare look at historic and unique rail train equipment presented by Amtrak Vacations. AmtrakVacations.com offers 300 long distance rail packages across the U.S. to more than 40 cities and 46 U.S. contiguous states. Top destinations include the U.S. National Parks such as the Grand Canyon, Glacier National Park and Yellowstone National Park. Other popular rail journeys include the Jazz, Blues & Rock N' Roll trip to Chicago, Memphis and New Orleans and the Spirit of America excursion through New York City, Philadelphia and Washington D.C.
In many locations, enthusiasts will be given the opportunity to take a walk through Amtrak railcars and privately owned luxury train cars. Commuter train displays will highlight rail passenger services and freight equipment displays will show how "green" locomotives transform the nation's freight fleet and move goods across the country. Specific information on the train equipment displays are available at www.NationalTrainDay.com/TrainEquipment.
Additional events and information will be added to the website frequently.
For those who want to celebrate National Train Day on actual rails, Excursion Train Trips will be available in Chicago at 10 a.m., 12 noon and 2 p.m.; in Washington at 11:35 a.m., 1 p.m., 2:05 p.m. and 3:45 p.m. and in Rutland, Vt., at 10 a.m. and 2 p.m. Beginning April 28, tickets can be purchased in advance for Chicago at NationalTrainDay.com/Chicago and Washington at NationalTrainDay.com/Washington.
Los Angeles' Union Station will be celebrating National Train Day a week early on May 3, as a recognition of the historical passenger terminal's 75th Anniversary. Other communities having events on May 3 are Huntington, W.V. and Toledo, Ohio.