Schools Chief Maxwell to Keynote P.G. Community College Commencement
5/5/2014, 12:58 p.m.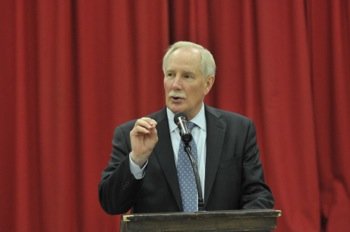 Prince George's Community College announced Monday that Kevin Maxwell, CEO of the county's public schools system, will deliver the keynote address at the institution's 55th commencement ceremony on May 22.
Maxwell will also receive the Distinguished Alumni Award in recognition of nearly 30 years of leadership and service to the students and families of Prince George's County and the state of Maryland.
Maxwell was named CEO by county Executive Rushern Baker in 2013, and he is highly regarded for his success in advancing public education.
"He is a dynamic presence in public education, and his dedication to student achievement and community engagement has been the focal point of his career," said Charlene M. Dukes, President of Prince George's Community College. "Dr. Maxwell was educated in Prince George's County — the public schools, Prince George's Community College and the University of Maryland College Park — and the first 22 years of his career was spent in Prince George's County Public Schools as a teacher and principal. His journey is inspiring and we are confident his message will resonate deeply with our graduates."
Maxwell served for eight years as the superintendent in Anne Arundel County, where he received national recognition and acclaim for student and district-wide improvements under his leadership. Prior to being named Anne Arundel superintendent, Maxwell worked for the Montgomery County Public Schools from 2000 to 2006 as a community superintendent and principal of Walter Johnson High School.
Prince George's Community College's Commencement ceremony will begin at 7 p.m. at the Showplace Arena in Upper Marlboro, Md. This is an event reserved for graduating students and their family members. For more information, visit www.pgcc.edu.