Howard U. Students Among Scholarship Winners at WHCA Dinner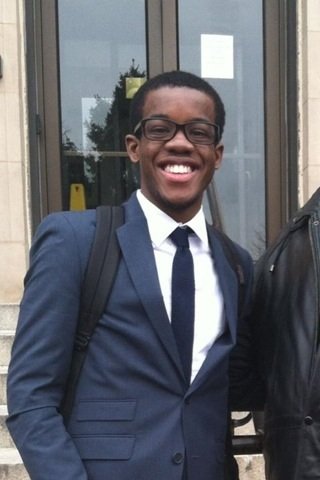 Howard University student Glynn Hill, an aspiring journalist from Philadelphia, got a dose of journalism history Saturday while accepting a $7,000 scholarship at the 100th annual White House Correspondents Association Dinner.
The award was given to Hill in honor of the late Harry McAlpin, the first black reporter to attend a presidential news conference.
"It was an incredible being in the midst of the president and so many celebrities," said Hill, 21, a senior at Howard majoring in print journalism. "I didn't know that much about Mr. McAlpin before learning I'd won the scholarship. I immediately did some research to discover that he's a pioneer in the field of journalism. I got a chance to speak with his son, who was at the dinner, and he filled me in on some of his father's life and legacy."
In addition to Hill, several journalism majors — including two other Howard students — received scholarships from the association.
McAlpin's son, Sherman, and his family, who live in Maryland, were honored at the dinner with a standing ovation.
McAlpin, who broke racial barriers and news stories with his consistent coverage in the 1940s of the Roosevelt and Truman administrations, was never welcomed by the organization during his tenure as a reporter. Although he'd asked to join the elite group, he was turned down by its board.
During a press conference in 1944 with President Franklin Roosevelt, white reporters tried to keep McAlpin away with the promise they would share their notes with him. They also tried to sway McAlpin from attending the correspondents dinner, baiting him with an opportunity to become an official WHCA member if he stayed away.
But McAlpin, described as soft-spoken and polite, reportedly headed straight to Roosevelt's office at the White House, where according to the Associated Press, the president shook his hand, saying, "I'm glad to see you, McAlpin, and very happy to have you here."
At the urging of the National Negro Publishers Association in 1944, Roosevelt overruled the WHCA board and granted McAlpin a White House press credential.
While he was given the nod to cover the White House, McAlpin was never credentialed to cover Congress. However, the St. Louis native eventually went on to practice law in Kentucky and become a local NAACP leader.
Seventy years later at the WHCA dinner, McAlphin — who died in 1985 — was posthumously recognized when the group apologized, accepted him as a member and named their scholarship in his honor.
WHCA President Steve Thomma said the goal of the scholarship is to keep McAlpin's story alive, inspire young reporters and acknowledge the organization's past mistakes.
"Well, that's the definition of history. We're going to tell the whole story," Thomma said.