Activists Back North Carolina Protests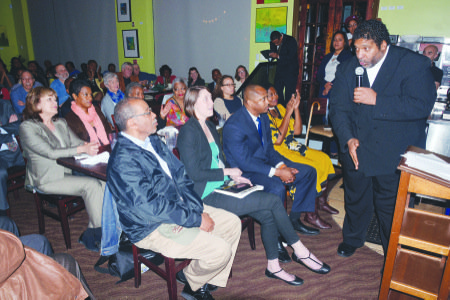 Hundreds of local activists recently packed a meeting room in a popular restaurant and bookstore. They showed up to hear a minister whose protests in North Carolina shined the spotlight on legislative attacks made on the state's civil rights and social justice programs by its conservative lawmakers.
The crowd at Busboys and Poets on K and 5th Streets in Northwest listened as the Rev. Dr. William Barber, 50, president of North Carolina's NAACP and architect of weekly Moral Mondays demonstrations at the Raleigh, North Carolina statehouse, described the movement's history.
"We're starting [Moral Mondays] again on May 19, the first Monday of North Carolina's legislative session," Barber told the audience.
Since April 2013, thousands protested deep budget cuts made by North Carolina's Republican-dominated government in education, health care, and unemployment compensation. Demonstrators also opposed its new voting restrictions. By year's end, 945 were jailed for trespassing and failure to disperse.
"[Additionally], the North Carolina NAACP is starting a Freedom Summer voter registration project in the state, honoring the 50th anniversary of the 1964 Freedom Summer voter registration project in Mississippi," said Barber. During the 1964 effort, racists in Philadelphia, Mississippi murdered voter registration volunteers Michael Schwerner, James Chaney and Andrew Goodman.
Barber said that high school teens and young adults up to 25 years old from any state can participate in North Carolina's Freedom Summer. "We'll pay and train 50 young people, who will register voters in 50 targeted counties," said Barber. "If they're successful, there will be a significant impact on North Carolina's November elections."
Barber views the Moral Mondays movement as part of what he calls the third Reconstruction. The first two Reconstruction periods in U.S. history, he said, took place after the Civil War, when whites and African-Americans came together to bring about positive social change, and during the early 1950s, when the U.S. Supreme Court in the Brown v. Board of Education case desegregated public schools.
It took nearly eight years to organize the North Carolina movement's foundation of teachers, labor unions, African-Americans, whites, Latinos, LGBT communities, and others in what Barber called "fusion politics."
"If we're going to change America, we have to think about changing the states, specifically southern states," Barber said in his remarks on April 28.
Every successful social movement had a moral center, said Barber, encompassing people of various religious faiths, and those with no religious affiliations.
"We need a serious challenge to the religious right, which I call the religious wrong," he said. "We can't leave religion out of the movement, but we have to understand that there has been a lot of money poured into the 'Bible Belt' states [and] a hijacking of faith."
"There is no scripture that codifies hate against homosexuals," said Barber. "You can't take the Bible and cut out its references to poverty and love. Jesus lifted up the poor in his first sermon."
Barber said grassroots movements like Moral Mondays must be nationalized. He has consulted with growing movements in Georgia and in South Carolina, which has started "Truthful Tuesdays" demonstrations.