Activists Back North Carolina Protests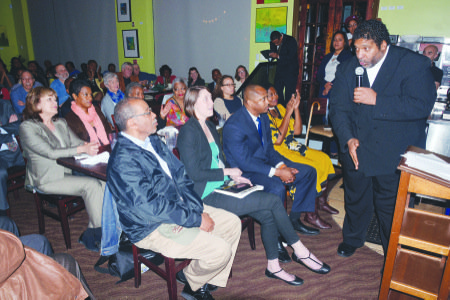 There is a backlash against the movement, said Barber, and threats against his NAACP office.
"Our adversaries attack us because they see our power," he said. "This is a movement, not a moment."
Audience members discussed how Barber and his movement inspired them. Nicole Lee, one of the meeting's organizers, said the movement has global significance. "I told Rev. Barber I would do anything I can to help his movement," said TransAfrica's former president. Lee and a friend coordinated the event as part of their D.C. ministry to involve African-American churches in public policy issues.
Roger Hickey, co-director of the D.C.-based political organization Campaign for America's Future and a veteran of Virginia's civil rights movement said civil rights activists there always thought North Carolina was more advanced than Virginia. "A lot of us are amazed at what's happening in North Carolina," said Hickey. "That state's [conservative] government won't be there long; it faces a unified movement."
Jack Payden-Travers from Lynchburg, Virginia works in the District. He attended the event after reading a post on the restaurant's website. "He's a preacher who brings people to their feet," he said. "When I lived in Raleigh, I [talked to him] one-on-one, and he is the genuine article. [Barber] has made the North Carolina NAACP a major force in state politics. He reaches out to all people and forms them into a working coalition."