Celebrate Mother's Day and National Women's Health Week by Staying Healthy
You Are Used to Taking Others Under Your Wing. Now It's Time to Take Some Time for You.
Karen Dale, Executive Director of AmeriHealth District of Columbia | 5/7/2014, 2 p.m.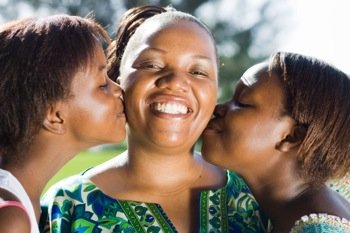 Women are caregivers at heart. They care for family, friends, and children big and small. They are nurturing and empowering. But women can be so focused on helping others that they can forget to look after themselves. It's important to take a step back and look at your own health. Sunday, May 11th is Mother's Day and the beginning of National Women's Health Week. Thank a woman in your life. Then, in celebration of yourself, schedule an appointment with your doctor to check your body. Your health is important. And it's important to others. Celebrate it by staying healthy!
Being a caregiver is a hard job, but there is nothing more rewarding. That's not to say that it can't be stressful. It can be, but there are plenty of fun ways to reduce stress. When you're not feeling well, it can affect the ones you care about. Learn ways to be active. Go for a walk. Try yoga with friends. You can go online and find beginner's yoga videos. It's fun, and it's free. Moving more can lift your mood, improve your self-esteem and give you more energy. You can reduce blood pressure and cholesterol levels just by staying active and eating healthy. This can help fight against depression, and even prevent heart disease.
Preventive screenings are especially important for women. But some procedures may be uncomfortable. Having a good relationship with your doctor can help.
Talk to your doctor about sexually transmitted diseases (STDs), preventive health screenings, breast cancer and your body's changes. It's important for women to see an OB/GYN. Make sure to schedule mammograms (X-ray of the breast) and clinical breast exams. These help doctors find early stages of breast cancer. Talk to your doctor about an early detection plan, especially if your family has a history of breast cancer. Again, finding a doctor you're comfortable with is important. There are also ways to check your own body at home. Women of all ages should do a self-breast exam at least 1 time every month. This is the case for all women — women with and without children, and those who are expecting.
If you are pregnant, your OB/GYN can help you and your child stay healthy. Your own health can directly affect your child's health. AmeriHealth DC members who are pregnant can take advantage of the Bright Start® Program. Bright Start helps moms-to-be make healthy choices and control risk factors during pregnancy.
Bright Start is free. You can reach AmeriHealth DC's Bright Start Program at 1-877-759-6883.
Being a mother is the best job there is. As caregivers and mothers, you always want to protect your child. Quitting smoking can reduce the risk of disease for you and your children. If you need help quitting, take advantage of smoking cessation counseling. It's important for your unborn baby's health.
Whether you are a woman with no children or a grandmother of many, self-care is important. Preventive screenings, reducing stress and healthy living are key to staying well and being able to give back to the ones you love. There is no better time than now. Take some time for you. Care for yourself first. Then you can better take care of others.
Sources: Centers for Disease Control and Prevention, and Office on Women's Health at the U.S. Department of Health and Human Services.