Cory Booker to Speak, Receive Honor at Joint Center Gala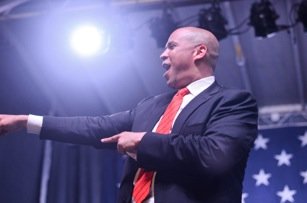 New Jersey Sen. Cory Booker (D) will deliver the keynote address and receive a top award at the Joint Center for Political and Economic Studies' annual dinner on June 25 at the Marriott Marquis in Northwest.
Booker, who was elected last year as his state's first black U.S. senator, will receive the Louis E. Martin Great American Award.
During his tenure as mayor of Newark from 2006 to 2013, he made national headlines for his efforts in fighting crime, pushing economic growth and improving educational opportunities for school-age children.
"With his intellect, his relentless drive, his commitment to innovation, and his common touch, Senator Booker is in the vanguard of a new generation of leaders who are breaking free of old orthodoxies in their efforts to serve their communities and our nation at large," said Spencer Overton, the Joint Center's president and chief executive officer. "Honoring his achievements and highlighting his enormous potential as a national leader and policy innovator is a fitting way to emphasize the Joint Center's focus on finding new approaches that can eliminate the disparities of opportunity that still exist in our land."
Martin, the award's namesake, is a well known and respected presidential adviser, as well as co-founder of the Joint Center.
Past recipients of the award include former Presidents Jimmy Carter and Bill Clinton, U.S. Reps. Jim Clyburn (D-S.C.), Charles B. Rangel (D-N.Y.) and John Lewis (D-Ga.), boxing legend Muhammad Ali, civil rights leaders Dorothy Height and the Rev. Jesse Jackson Sr., and National Security Advisor Susan Rice.