Health Care Spending Growth Slowed in 2012, Still Consumers Continue To Spend More Out-of-Pocket
F. Sia Turay, Special to The Washington Times | 5/7/2014, 2 p.m.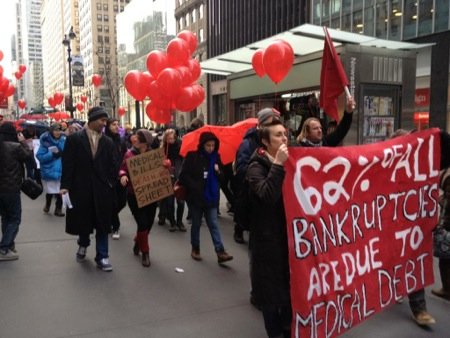 It can happen after a job loss, caring for a sick loved one or amid routine confusion over who owes what. A medical bill goes unpaid and ends up in collections, staining your credit for years—even if you pay or settle the debt.
When a bill is beyond past due, some health-care providers sell it to debt collectors, who take a percentage of what they recover. That's typically when the credit-reporting companies have information to act on.
Medical debt is treated the same as any consumer debt when calculating credit scores. A debt of more than $100 referred for collection can lower an otherwise unblemished credit profile by more than 80 points, says Frederic Huynh, senior principal scientist for FICO in San Rafael, Calif. Lenders, employers and landlords use credit information to assess risk and price a wide variety of loans and insurance products. Collections can stay on consumers' credit reports for up to seven years.
But that soon may change. Some industry groups and consumer advocates argue that medical debt is a poor predictor of creditworthiness, and that the tarnished credit that results unnecessarily constrains economic activity.
The Medical Debt Responsibility Act, introduced in Congress last year, would require credit firms to remove fully paid or settled medical debt from credit reports within 45 days. Supporters include the Mortgage Bankers Association, the National Association of Home Builders, the American Medical Association and Consumers Union. Another bill, titled Stop Errors in Credit Use and Reporting, or Secure, was introduced this month. It seeks to improve the accuracy of credit reporting and give consumers greater rights. It could help medical debtors.
The 2012 Health Care Cost and Utilization Report provides a picture of health care spending for the nearly 156 million Americans younger than age 65 with employer-sponsored health insurance in 2012. This report, the third in an annual series, analyzes private insurance claims data from 2009-2012 representing over 25 percent of the nation's privately insured population. Spending grew fastest for young adults, women, and for people living in the Northeast.
As in past years, price increases rather than use of services remained the primary cause of spending growth for outpatient and inpatient facility claims. Prices rose 5.4 percent for inpatient services, and 5.6 percent for outpatient services.
For the first time since the end of the recession, increases in expenditures for professional procedures and generic prescriptions were due mainly to increased use, not increased prices.
"Although average health care expenditures grew at nearly the same rate in 2012 as 2011, the causes of the 4 percent increase in spending each year were quite different," said HCCI Executive Director David Newman. "In prior years, rising health care prices drove up spending. In 2012, we saw utilization start to change health care trends for prescription drugs and professional procedures. Preliminary evidence suggests this may be indicative of a larger shift in care as people search for lower cost care alternatives."
Outpatient Spending Continues Steady Climb
For the third year, spending grew fastest for outpatient care compared to the other service categories, rising 6.5 percent to $1,315 per person in 2012. Prices also rose fastest for outpatient care, increasing 5.6 percent. The price of an outpatient visit, for example to an emergency room, averaged $2,457, and the price for other outpatient services, for example diagnostic imaging, averaged $192.