HEALTH, WELLNESS & NUTRITION: Recommended Books
5/7/2014, 2 p.m.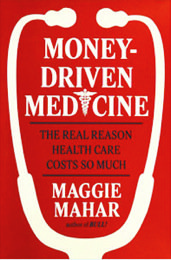 Money-Driven Medicine (Google eBook)
By Maggie Mahar
Why is medical care in the United States so expensive? For decades, Americans have taken it as a matter of faith that we spend more because we have the best health care system in the world. But as costs levitate, that argument becomes more difficult to make. Today, we spend twice as much as Japan on health care—yet few would argue that our health care system is twice as good. Instead, startling new evidence suggests that one out of every three of our health care dollars is squandered on unnecessary or redundant tests; unproven, sometimes unwanted procedures; and overpriced drugs and devices that, too often, are no better than the less expensive products they have replaced. In Money-Driven Medicine, Maggie Mahar takes the reader behind the scenes of a $2 trillion industry to witness how billions of dollars are wasted in a Hobbesian marketplace that pits the industry's players against each other. In remarkably candid interviews, doctors, hospital administrators, patients, health care economists, corporate executives, and Wall Street analysts describe a war of "all against all" that can turn physicians, hospitals, insurers, drug makers, and device makers into blood rivals.
Health Economics: Theory, Insights, and Industry Studies (Google eBook)
By Rexford Santerre, Stephen Neun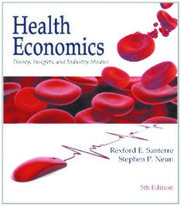 In the constantly changing field of health care, HEALTH ECONOMICS, Fifth Edition, delivers coverage that is current, comprehensive, and complete--equipping your students with a solid understanding of the costs and benefits associated with various health care choices. Thoroughly revised, the new Fifth Edition addresses the many changes in both the public and private sectors as it equips students with a very practical knowledge of today's health care systems. The authors bring a fresh, contemporary approach to the content, introducing real-world applications that make economic theory very approachable. With a lively and inviting writing style, the text presents topics in an easy-to-understand format. Its use of only the core foundations of economic theory makes it ideal for majors and non-majors alike.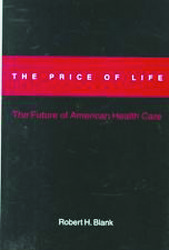 The Price of Life: The Future of American Health Care (Google eBook)
By Robert A. Blank, Robert H. Blank
How can America become a healthy nation, he asks, when it is beset by poverty, illiteracy, and crime? Blank calls for a more aggressive redistribution of social and public health resources to the poor and elderly; at the same time, he describes sanctions that would encourage individuals to be more careful about their own health, and limit or change destructive behavior.
Economics of Health and Medical Care
By Lanis L. Hicks
The Economics of Health and Medical Care is an introduction to population-based health economics as well as the traditional, market-oriented approach to health care economics. The book examines economics through the lens of descriptive, explanatory, and evaluative economics.The Sixth Edition is an extensive revision that refines its approach to evaluative economics by focusing on the tools and methods used to inform decision making, with a particular emphasis on determining alternative approaches to addressing a problem, issue, or decision and comparing the relative benefits and costs of those approaches.The Sixth Edition also offers:
• Expanded material on health insurance, to incorporate more theory regarding insurance markets and also on the substantial implications that insurance has for efficiency in the health care industry.
• New coverage of health care reform and its impact on different sectors of the economy and on different individuals in the system.*