Hundreds Rally to Support Kidnapped Girls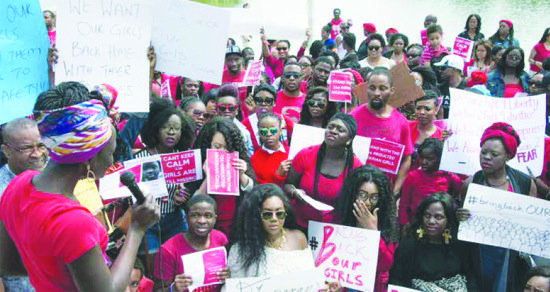 While no answers as to the girls' whereabouts were forthcoming from President Goodluck Jonathan, after weeks of silence he made his first public statement on the kidnapping on Sunday, May 4.
Jonathan bowed to intense public pressure and relentless criticism at home and abroad of how poorly his government has responded to the kidnapping, and for their failure to extinguish the threat posed by Boko Haram.
He pledged during a nationally televised speech that his government would locate the victims, ages 16-18.
"Wherever these girls are, we'll get them out," Jonathan said.
One of his advisors said the president met throughout the night Sunday with state and security officials and the school's principal before issuing a new directive that "everything must be done" to free the victims.
There was speculation among some Nigerians at the rally that the government's silence to this point, had as much to do with complacency and public disregard as it has with the fact that Nigeria is hosting the World Economic Forum on Africa for the first time on May 7-9. The kidnapping is an embarrassment and has threatened to overshadow the forum.
Nigerian first lady Patience Jonathan raised eyebrows when in a weekend meeting with protest leaders, she browbeat them, saying that their actions were embarrassing her husband. And there are reports that she had two of the women arrested but they were later released.
Members of Boko Haram snatched the girls from a secondary school in Chibok, located in Borno State in the northeastern region of Africa's most populous country.
The girls were preparing to take physics and other final exams before graduation. An estimated 430 girls were at the boarding school because so many others in the area had been forced to close because of Boko Haram attacks.
The insurgents showed up dressed in Nigerian military uniforms and told the girls they would take them to safety. They herded the girls into trucks and onto motorcycles after the men looted and burned the school. Fifty-five girls managed to escape and despite desperate searches by parents and relatives, armed only with machetes, the rest haven't been located. It is believed they may be in Cameroon and Mali. The militants' leader, Abubakar Shekau, has claimed responsibility for the kidnapping and promised to sell the girls. The kidnapping, he said, was retaliation for Nigerian security forces detaining members' wives and children. Victims' families said they heard some girls had been married off to insurgents, and fear that the others would become sex slaves.
The name Boko Haram means "Western education is a sin." The group, branded a terrorist organization by the Obama administration, is opposed to women securing an education, believing that by its tenets of Sharia law, women should not be learning to read or write but should be home taking care of their husbands and children. The group is also fundamentally opposed to Western education and seeks formation of an Islamic state.

Since the insurgency began, more than 3,000 people, mostly civilians, have been killed.
Margaret Dureke, a Nigerian who heads the group, Women in Power to Achieve the Impossible, said people have to use dialogue and communication to avoid conflict and erase fear and ignorance.
"I grew up not knowing that groups like this ever existed, said Dureke, a motivational speaker, and author. "The group (Boko Haram) is a combination of Nigerians and some others. They have ammunition and people supporting them. It's not possible for anyone to come in America and do harm without help from inside, for example. This is not the first time this has happened. People keep on hoping nothing goes forward. People are frustrated because this group cannot be more powerful than the government."
"I can't believe the terror mindset – that your God would tell you to kill and kidnap children. They are cowards. We want a continuation of discussions to eradicate Boko Haram. We don't want them to take root. They will slowly take over control of the government. Nigeria has never had this. It's like rot on an apple. Leave it and it spreads."