Local Conference Connects Women Entrepreneurs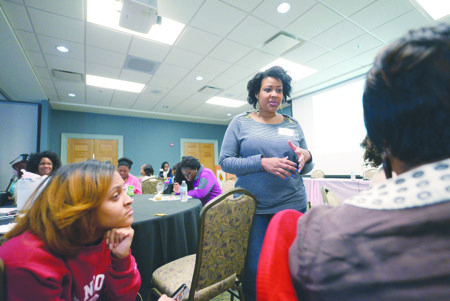 Reneta Bennett glanced around the table and listened as women shared stories about starting their own businesses. Their interesting anecdotes gave her the courage to talk about her passion for helping teenagers and young people.
A year has passed since Bennett registered her business Pressing Through Mentoring, an organization that will help children express themselves through the arts. In 2013, she started working on the curriculum and applied for 501c3 status.
"I've [always noticed] that young people identify with the music and words they listen to," said Bennett, 26, a pharmaceutical professional at Walter Reed National Military Medical Center in Bethesda, Maryland. "[My program will host] six-week workshops [during which] people will jot down what they identify as crises and stereotypes. They will later write poems about how people perceive them. My efforts will help build communities," said Bennett who lives in Lanham, Md.
Bennett counted among more than 40 women who networked and chatted with other women who currently own businesses, and learned how to legally protect theirs during the first annual C.O.O.K.I.E. Conference.
Creating Opportunities Overflowing Knowledge Innately Empowered (C.O.O.K.I.E.) hosted the daylong event on April 26 at the University of Maryland, College Park's Adele H. Stamp Student Union in College Park, Md.
"Everyone has something inside of them that they can use to create a revenue-generating product," said Patrice Cameau, 30, creator of C.O.O.K.I.E. and lead organizer of the conference. "This [event] will compel women to look inside themselves and see what they can do to help themselves and other people. I wanted the ladies to be on a college campus and feel that creative energy so that their minds open up," said Cameau, a communications strategist for eight years who lives in Hyattsville, Md.
Guests nibbled on a variety of finger foods and listened to a host of speakers that included Joi-Marie McKenzie, founder of The Fab Empire, an online lifestyle magazine for D.C.'s young black professionals, Dana A. Smith, master life coach and yoga instructor, and Patrice A. Sulton, a practicing attorney and principal of Sulton Law Offices, PLLC in Northwest. The women later split into groups and discussed their experiences with one another, swapping tricks of the trade throughout most of the afternoon.
Alicia Watson said that she enjoyed learning about business ventures that the women have pursued. She hopes to feature various cultures through Ali Watson Media, her videography and theater production company. Watson, who currently writes and produces plays with her husband, wants to eventually give her business her undivided attention.
"I care about culture and the way it's communicated to people," said Watson, 30. "Videography is so far reaching but my first love is theater. There's so much liberation in doing what you want to do. It's the ultimate expression of your creativity. It's awesome learning from other women who [want the same thing]. Everyone here has a passion for something and the vision to make it happen. We need more of that in the world," said Watson, a federal government employee who lives in Fort Washington, Md.