Local Conference Connects Women Entrepreneurs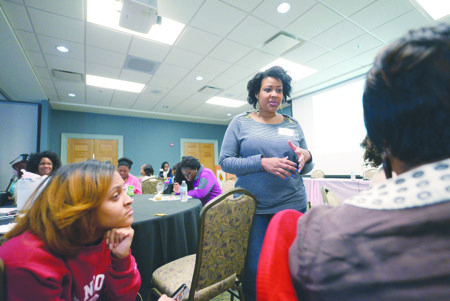 The roundtable discussions provided some women like Lia-Symone Yahya an opportunity to talk about how to balance personal and professional commitments. Yahya, founder of The Lia-Symone Experience, an event planning company, said she appreciated the feedback she received from her peers.
"I have been able to take away advice that helps me take care of all of my obligations," said Yahya, 29. "I am a wife, mother of six, employer, employee, and a student. I [often have to] keep a detailed calendar and [enlist the help] of my business partners. It's been very beneficial seeing my dreams [come] to reality in the last seven years," said Yahya, a student at Trinity Washington University in Northeast who lives in Laurel, Md.
Cameau launched C.O.O.K.I.E. in 2012 in the hope of uniting aspiring business owners throughout the D.C. metropolitan area. She started planning the conference in February, calling on five guest speakers and spreading the word about the event on social media.
"I think if you have that entrepreneurial spirit, there's always something in you that makes you pursue [different projects]," said Cameau. "It's about managing your resources, using everything to your benefit, and making every experience your best."
For more information about C.O.O.K.I.E., visit www.thecookielife.com.