Mental Storms Today, but Bright Days Ahead
AmeriHealth District of Columbia | 5/7/2014, 3 p.m.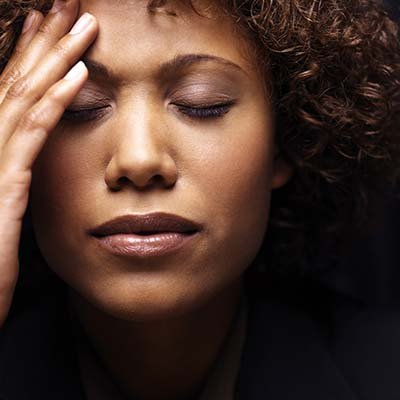 If you are feeling depressed or anxious, you are not alone. The D.C. Department of Mental Health Hotline is available 24 hours a day, 7 days a week at 1-888-793-4357.
May is Mental Health month. Take some time to learn how mental health can affect your health as a whole. Mental health conditions include eating disorders, drug or alcohol abuse or attention/deficit/hyperactivity disorder (ADHD).
Everyone responds to life's ups and downs differently.
There are many types of depression. It's important to find out what kind of depression you are going through. You may be anxious and begin to worry a lot about people or events — feeling like you might lose control of things. The change in seasons can also cause you to feel down. Find a health care professional that you are comfortable with so you can speak openly with him or her.
Some symptoms of depression may include:
• Feeling sad, angry or down on yourself.
• Having no interest in activities or eating.
• Sleeping a lot or having trouble sleeping.
• Unexplained physical problems, like back pain or headaches.
There are different types of help.
It's important to understand the options for dealing with mental health conditions. Getting professional help is important. It takes courage to admit that you need some help to support your mental health. It takes even more courage to ask for help. There is plenty of support for you. There are churches and local groups in your community. Meeting with a pastor can help. You can join a support group or try one-on-one therapy. Finding someone you trust can mean all the difference.

Ignoring mental health conditions can lead to physical sicknesses.
While trying to balance family, friends and day-to-day activities, life can become stressful. For adults, the symptoms of depression can be less obvious. Depression can make you not want to be social and interact with your family and friends. Have you ever heard the expression "worried sick?" Well, a mental health condition can make you physically ill, too. It can even put you in the hospital. It can cause stomach sores, headaches and other pain. Mental health awareness can prevent trips to the hospital.
With children, pay attention to big changes.
You know your children better than anyone else. If you see a big change in their attitude, behavior or mood, talk to them. Encourage them to share what's going on in their lives. Learn their fears. Ask about their friends. Check with the teachers and other family members they spend time with. With a younger child, he or she may feel sad, be very attached to certain people or toys or refuse to go to school. If your child is having trouble, don't be afraid to get professional help.
There are lots of ways to lift your spirits if you're feeling down.
Don't fight depression with drugs or alcohol. And don't use violence as an outlet for stress. There are healthier ways to deal with mental struggles. Stay active. Exercise as directed by your doctor. Eat healthy. Keep in touch with family and friends. And even though it can be hard, try to think positive. If you're feeling "down" too often, get help. The D.C. Department of Mental Health Hotline is available 24 hours a day, 7 days a week at 1-888-793-4357.
Life can be hard, but you're not alone.
There are many ways to get support during difficult times. Writing down your thoughts often helps. You can share those thoughts with someone you trust if that's easier for you. Your health care professional may be able to suggest some books to read. Here are other things you can do:
• Find a close family member, friend or health care professional to talk to.
• Join a support group at your local church or within your faith-based community.
• Try to participate in social activities and get plenty of sleep.
Remember, your mental health is just as important as your physical health. Think about "whole-person care" and be well.
Sources: National Alliance on Mental Illness, American Psychological Association and Government of District of Columbia Department of Mental Health, Mayo Clinic.