EDUCATION BRIEFS: New Schools Join Engagement Partnership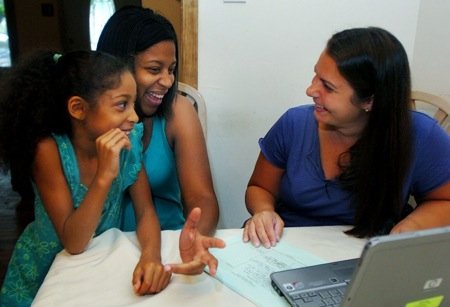 Six District of Columbia Public Schools (DCPS) will be added this fall to the roster of schools currently participating in a partnership that assists teachers and administrators improve upon strategies that help students to learn.
Schools involved in the District-based Flamboyan Foundation and DCPS's "Family Engagement Partnership" receive training and resources for effectively engaging in home visits and other strategies that boost learning.

"The Flamboyan Family Engagement Partnership is one of our most successful partnerships to date," said Chancellor Kaya Henderson, 43. "The work to empower families and teachers and build real relationships truly makes a difference. The progress we have seen in these schools with this model has been tremendous and I'm so excited that more schools will get to benefit from this partnership."
The city's participating schools – where 86 percent of the teachers have voluntarily conducted at least one home visit – were selected through a competitive process. In addition to becoming more actively engaged in school communities, the partner schools have also demonstrated significant academic growth.

Schools selected for participation in the upcoming school year include Burrville, J.O. Wilson, Kimball, Ketcham, Maury and Langley elementary schools.
STEM Fair Winners
For the fourth consecutive year, a School Without Walls High School student has won the grand award in the DC Citywide Science Technology Engineering and Math (STEM) Fair held in late March.
With more than100 high school students from the District's public, public charter, private, and parochial schools having participated, the fair has continued to be the city's largest STEM competition.
Maya Hall, who won first place for the School Without Walls in Northwest, concentrated on the age range of bottlenose dolphins.
"My project focused on finding an alternative method to aging bottlenose dolphins off the coast of Western Australia," Hall wrote in statement posted on the DCPS website. "Currently, if researchers need to determine the age of a dolphin, they must extract a tooth and examine the calcium layers, which is similar to aging a tree by its rings. This process is invasive and time consuming, and is dangerous for both researchers and dolphins."
Maya is among two other winners from her school – Marcelle Snead and Kelsey White – who came in 2nd and 3rd place, respectively. All three won an all-expenses paid trip May 11-16 to Los Angeles, California, where they will represent the District at the Intel International Science and Engineering Fair.
Student Happiness
District public school officials recently committed $5 million for improving student satisfaction at their schools, and using data from last year's survey, students from the various schools crafted a proposal for changes that will make them most happy.
Some of their ideas included:

Young Shakespeares
Soon enough, students at Plummer Elementary School in Northeast will be reciting lines similar to those of Shakespeare as they partner with Young Playwrights Theater to write plays and learn about the performing arts.
The Real World (Not the MTV Kind)
Students at Eliot-Hine Middle School in Northeast will attend lunch seminars and take field trips to area colleges and businesses, with a focus on learning real workplace dynamics such as team building, conflict resolution, and professionalism.
Students on Stilts
Savoy Elementary School in Southeast, a Turnaround Arts School, will hire about three part-time art teachers to serve students in visual, studio, and performing arts.