Shopping Complex Coming to Ward 7
D. Kevin McNeir | 5/7/2014, 3 p.m.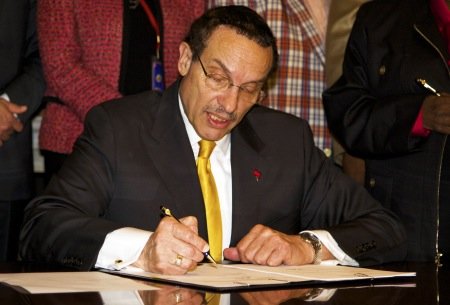 With the sweep of a pen, D.C. Mayor Vincent C. Gray signed off on tax increment financing estimated at $40 million that will bring a long-awaited shopping center to Ward 7. Business owners, politicians, land developers and city residents surrounded Gray in the Mayor's Ceremonial Office at the John A. Wilson Building in Northwest on April 28, as he approved the Skyland Town Center Omnibus Act of 2014.
Upon completion in late 2016 or early 2017, the mixed-use town center, situated on 18.7 acres of land, will be the site for both retail establishments and residential housing. But completing the deal wasn't easy as the city had to acquire multiple properties, secure a construction team and settle lawsuits from several disgruntled land owners.
"At one point more than 15 different property owners were part of the traditional retail center [in Southeast D.C.] but it never met the needs of the residents," said Niminta Shah, deputy director of real estate, Office of the D.C. deputy mayor for Planning and Economic Development. "The District got involved around 15 years ago after efforts by residents to bring significant improvements to the shopping center failed."
Shah said the project finally moved forward after the resolution of the final lawsuit in 2013. She added that Gray has received the support of the D.C. Council, all of whom are anxious to bring retail amenities, residential properties and more jobs to the area.
"All of the former tenants except CVS have been relocated," she said. "Those who wish to return will need to meet with the development team and secure a suitable leasing agreement. But there are no guarantees as new tenants will be chosen based on whether they fit within the retail plan and of course, whether they can pay the rent."
Construction began earlier this spring with fences being erected and demolition of the old buildings scheduled for early summer.
"It will take a considerable amount of site work or what we refer to as horizontal land work before people see buildings go vertical," Shah said. "But by fall 2015, residents can expect to see the construction of one of the anchor retail tenants, Walmart, commencing. Naturally there will be updates for the community as the project progresses."
Yvette Alexander (D-Ward 7) commended both Gray and the attorney general for their determination.
"This has been on hold for so long that some wondered if it would ever be approved," she said. "Finally we can envision what will happen as construction takes place. And when the mayor and council members attend the annual retail convention later this year in Las Vegas, we'll be marketing our city for major national retailers."
Alexander added that having Walmart and CVS as confirmed tenants will boost the city's chances of attracting other well-known retailers.
"This means jobs for our residents, both during the construction phase and then once the businesses are built and ready to open their doors to the public," she said. "Development is returning to Ward 7 and the adjacent Ward 8 but it's a slow process. We're excited about welcoming new residents and businesses to the area. But we want to make sure there's more affordable housing and ample jobs so that our residents who have been here can remain."