UDC Announces Hiring of Rodger Colbert as Lacrosse Coach
Courtesy of the UDC Sports Department | 5/7/2014, 3 p.m.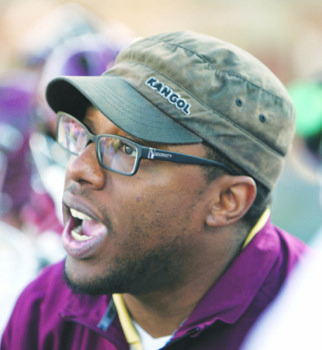 Head coach Scott Urick has announced the hiring of Rodger Colbert as the assistant men's lacrosse coach at the University of the District of Columbia (UDC) on May 1.
"I am thrilled at the addition of Rodger Colbert to the UDC men's lacrosse coaching staff," Urick said. "Rodger is a former teammate of mine and a longtime friend. I have the utmost respect for him as a coach and educator. I know he will do a terrific job of helping us reach our goals both on and off the field."
Colbert, who served as a volunteer assistant lacrosse coach at UDC this season, will continue his duties as defensive coordinator, and he will assist with recruiting, practices, and all day-to-day operations of the men's lacrosse program. The Firebirds won three games in the program's inaugural season this spring, including two East Coast Conference victories.
Before UDC, Colbert gained extensive coaching, academic and administrative experience. Since last fall, he has served as the founder and director of Rigor Commitment Discipline Courage Lacrosse Prep, Inc. – a nonprofit organization that partners with communities to provide quality mentoring and coaching to potential lacrosse players. In that capacity, he works as the elective school course leader for 6th and 7th grade students at City Neighbors-Hamilton in Baltimore, Maryland and as team trainer in the fall and winter for St. Peter's Prep High School in Jersey City, New Jersey and Moorestown Friends School in Moorestown, New Jersey.
A New Jersey native, Colbert also works with Tri-State Lacrosse – an All-Star lacrosse organization located in Hightstown and Wayne, New Jersey. Since 2012 he has served as the director of guidance/secondary school counselor and the director of Rising Sophomore Lacrosse. At Tri-State Lacrosse, Colbert researches and initiates potential college and secondary school visits for student-athletes, coordinates campus visits with college and high school lacrosse coaches, conducts small group and individual lacrosse training as well as lacrosse coach training and supervises four lacrosse teams and a 10-person coaching staff.
On the academic side, Colbert served as a principal intern at Dorchester Academy – a district public school in Boston, Massachusetts – from 2011 to 2012. He also worked at St. Paul's School – an independent boarding high school in Concord, New Hampshire – as the coordinator of multicultural programming (2007-2011) and a math instructor (2008-2011).
Colbert also spent five years working at his alma mater – The Peddie School – an independent boarding high school in Hightstown, New Jersey. There he served as the assistant director of admissions and coordinator of multicultural recruitment.
Colbert gained extensive coaching experience while working at these various high schools. He started out serving as the defensive coordinator for the Ridgewood High School varsity lacrosse team in Ridgewood, New Jersey, where he helped guide the team to a 16-2 record and a New Jersey State runner-up finish.
At Peddie, he was a co-coach of the freshmen-sophomore football team (2002-2003), head boys' freshmen lacrosse coach (2003), head junior varsity basketball coach (2002-03), assistant varsity basketball coach (2004) and head varsity lacrosse coach (2004-07). He also coached varsity lacrosse from 2008-2011 and was an assistant varsity football and junior varsity basketball coach at St. Paul's.
A former high school and college All-American at The Peddie School (1997) and Georgetown University (2001), Colbert was picked 12th in the 2001 Major League Lacrosse Draft and played for the Bridgeport Barrage, New Jersey Pride and Boston Cannons over his six-year career.  He captained three sports teams at Peddie in 1997 and captained the Hoyas lacrosse team his senior year in 2001. Colbert has a Masters of Education in School Leadership from Harvard's Graduate School of Education (2012).