VIRGINIA BRIEFS: Special-Education Award Nominees to be Honored at Reception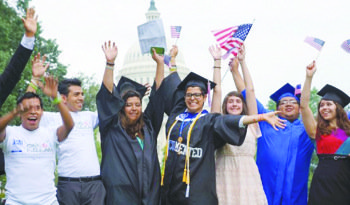 Nominees for the "2014 Harry Burke Awards for Outstanding Achievement in Special Education" awards will be honored at a reception at 6 p.m., Thursday, May 8 at the Central Office building located at 2000 N. Beauregard Street. The winners will be announced at the 7 p.m. school board meeting which follows.
Among the nominees for Outstanding Elementary Special Educator are:
Jessica Donahue, Cora Kelly School
Katie Dorgan, Cora Kelly School
Jennifer Fasching, Jefferson-Houston School
Allison Hodgkins, Jefferson-Houston School
Crystal Johnson, Jefferson-Houston School
Julanne Keil, Mount Vernon Community School
Alexandria Manning, John Adams Elementary School
Therese Margot, Charles Barrett Elementary School
Teresa Santee, William Ramsay Elementary School
Katie Zimmerman, Cora Kelly School
Nominees for the Outstanding Secondary Special Educator include:
Keri Madsen, T.C. Williams High School
Dana Payton, George Washington Middle School
Mallory Sutherland, George Washington Middle School
Jennifer Tutuska, George Washington Middle School
Earth Week Celebration
The International Academy of T.C. Williams High School recently held its first "Community Stewardship Day" during Earth Week in late April. Approximately 370 ninth- and 10th-grade students participated in various environmental and community service learning activities that included native tree planting, aquatic plant restoration, water quality testing and litter clean-up at parks around the city and along the George Washington Memorial Parkway.
The International Academy is a relatively new program that's designed for high school students who are recent immigrants to the United States. While working toward on-time high school graduations, the participating students are learning English.
The Academy's partners who've been instrumental in providing students with guidance through volunteer efforts, include the Alexandria Seaport Foundation, the Alexandria City Department of Recreation, Parks and Cultural Activities, Friends of Dyke Marsh, and the National Park Service.
George Washington 2 Students Win Four Awards
Congratulations are extended to 11 George Washington 2 Middle School students who recently competed at the Virginia State History Day competition in Williamsburg, Virginia.
Seven of the students received awards and will advance to the Kenneth E. Behring National History Day contest that will be held June 15-19 at the University of Maryland at College Park.
First-place honors went to 7th-grader Ana Humphrey for "Individual Documentary" and 7th-graders Chloe Marsh, Isabel Frye and Lily Clausen for "Group Website."
Second-place honors went to 8th-grader Jackson duPont for "Individual Documentary" and 8th-graders Emma Goeas and Lane McCaslin for "Group Documentary."
During the upcoming National History Day competition, students will compete against the best National History Day projects from across the United States, American Samoa, Guam, and Department of Defense Schools in Europe.
Undocumented Students Qualify for In-State Tuition
Virginia Attorney General Mark Herring announced recently that undocumented students who have been approved for Deferred Action for Childhood Arrivals are now eligible for in-state tuition at Virginia public colleges and universities.
Previously, all undocumented students were required to pay higher, out-of-state tuition rates at Virginia colleges, even if the student had lived for years in the Commonwealth of Virginia.
For many families, Herring's announcement means that the college education that was once out of reach, is now an affordable option.