Youth Baseball League Surges in Popularity
D. Kevin McNeir | 5/7/2014, 3 p.m.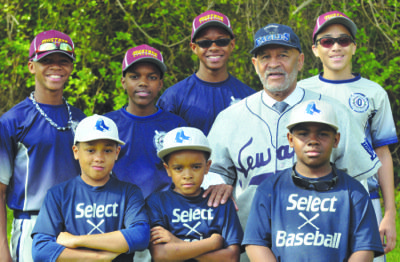 Other sports may be more glamorous but in Prince George's County, boys' baseball continues to fill the stands, attracting a rise in committed young players, their families and fans.
And in a scene reminiscent of college signing day, a group of talented eighth graders moved one step closer to fulfilling their dreams after announcing the high schools where they will play baseball next year.
"Our league has a short but rich history and today we acknowledge some of our kids that have learned how to play the sport well and are now moving on to the next level," said Reginald Zayas, Sr., 43, president, PG Select BlueSox, Inc. "Boys continue to join our league because they love playing baseball and want to become better at the game they love. But it's our ride and die parents who have really made the difference."
PG Select BlueSox, Inc., a not-for-profit travel baseball organization, started in 2009 with four teams and 45 boys, ages eight to 13. Today, their numbers have increased to 100 players representing nine teams. Last year they sent five teams to the Maryland State Championship game and two of them won at the 13U and 14U level.
Last Saturday they faced their rivals on the sandlot from early in the morning until well into the night. But the day kicked off with eight of the league's players sharing the news that they've decided to attend two of the county's top schools: DeMatha Catholic High School in Hyattsville and Bishop McNamara High School in Forestville. The event took place at Sasscer Field in Upper Marlboro, Maryland on May 3.

The high school-bound athletes include: Donnell Troy, Jonathan Brown, Thomas Espinosa and Reginald Zayas, Jr., all headed for DeMatha; and Lance Lynch, Kamau Moody, Tyrus Pincham and Anthony Robinson, each bound for Bishop McNamara. Pincham and Zayas, along with two other players, Ashby Ervin and Jalen Watson, have been with the program since its inception.
"This is an important time in the lives of these young men," Zayas, Sr. said. "They have a lot of decisions to make and the schools they've chosen will prepare them for whatever future they desire."
DeMatha's head baseball coach, Sean O'Connor, attended the ceremony and said the league has been instrumental in developing highly-competitive players.
"Before PG Select was formed, we were able to win most of the championships," he said. "And with their players joining our team, we're going to be able to continue that tradition. Some may come to DeMatha to play baseball but there's something more important that they receive – an education that is second to none."
Negro League Player Eddie Banks, 72, also a retired, District police officer, has pledged his support to PG Select and joined the boys and their families at the ceremony.
"This league reminds me of the days before desegregation when baseball was a cornerstone of the black community," Banks said. "Parents of the players and the community supported their teams. Other sports have gotten more of the fanfare since then but local leagues like PG Select have continued to prepare young players with the skills they need. And they would have failed had it not been for the endless support of the parents."
Kevin Moody, 50, whose son is headed to Bishop McNamara next year, said he and his wife have embraced the league and support the lessons its taught their son.
"This is a true time commitment as we've already been to Delaware, New York, and Myrtle Beach," he said. But my wife and our older son make this a real family affair. These boys learn teamwork, the skills needed to excel in this sport and they're encouraged to be scholars first, then athletes."
Three eight-year-old boys, Marc Harrison, Ronald Burke and Major Dillard, all members of the league's 8Uteam, echoed Moody's sentiments. They said that while winning is great, they understand that what really matters is learning how to work as a team with others, while having a lot of fun.
"When you see young black boys like these, you know that baseball is alive and well in [Prince George's] County," Banks added.