Norton Backs Bill to Name D.C.'s Union Station for Truman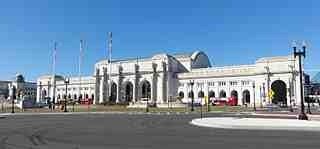 D.C. Delegate Eleanor Holmes Norton (D) is supporting legislation by Missouri Sens. Claire McCaskill (D) and Roy Blunt (R) to rename D.C.'s Union Station after President Truman.
"I applaud the bipartisan McCaskill-Blunt bill to name the Union Station, a federal building, for Harry S. Truman, a president much admired in this city," Norton said. "From integrating the armed forces and the Marshall Plan to the Fair Deal and the creation of the United Nations, Harry Truman was one of the nation's greatest presidents and deserves recognition in the nation's capital.
"I hope and believe that a new high-profile name will reinvigorate the commitment of Congress to help in our efforts to make Union Station a world-class, 21st century intermodal facility," she said.
Norton is a senior member of the Transportation and Infrastructure Committee in the U.S. House of Representatives, which will likely handle the bill, and wants to be an original co-sponsor of it in her chamber.
Truman, the nation's 33rd president and a Missouri native, famously crisscrossed the country by train during his whistle-stop campaign in the 1940s.