Washington Drops Eastern Conference Semifinals Game 3 to Indiana
Elton Hayes | 5/10/2014, 2:19 p.m.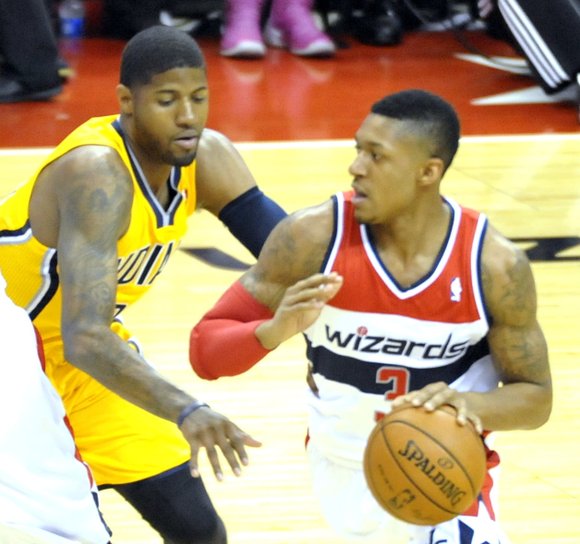 Before Washington and Indiana tipped off for Friday's Game 3 of the Eastern Conference Semifinals, an advertisement for season tickets splashed across the Verizon Center's jumbotron.
Judging by the steady stream of fans who poured from the Gallery Place-Chinatown Metro Station's exits into the Verizon Center, that advertisement won't be up for much longer.
After watching the Wizards lose a four-point, Game 2 in Indianapolis on Wednesday, fans filled the basketball arena by the thousands to welcome the team home. The homecoming wasn't an enjoyable one, but Wizards' fans remained committed in their allegiance as nearly all stayed for the duration of the game.
But it wasn't a pretty one.
Indiana cruised past Washington 85-63 on May 9 to pull ahead in the series and win its second consecutive game. The loss adds even more significance to Sunday's Game 4, and puts pressure on the Wizards to grab the win and recapture some of the momentum still leftover from their 4-1 series rout of Chicago.
While aware of the implications that a loss in Sunday's game will carry, Wizards' players aren't in panic mode.
"We know that this is a seven-game series. It's not like you win one game and then advance," Wizards' small forward Trevor Ariza said. "[The series] is only 2-1 and we have a lot of games and a lot of basketball left to play. We still have another game to play on Sunday."
Despite the home court advantage provided by the more than 20,000 fans who packed the arena and whose screams generated enough electricity to power the D.C. metro area, the Wizards struggled to find a rhythm most of the night.
The Wizards held a third-quarter lead, but it dissipated halfway through the quarter. And with it, Washington's chance to take Game 3.
Simply put, it just wasn't the Wizards' night.
"We're a team that plays well when we're moving up and down the court and playing with a lot of energy," Ariza, who scored 12 points, said. "We didn't play our style of game; we didn't [play] the way we wanted to. When we don't run, and when we don't do the things we're used to doing, everything gets out of whack."
Wizards' point guard John Wall played an uncharacteristically sloppy game. Wall earned high praise from Washington Head Coach Randy Wittman for taking care of the ball against Chicago in the last series, and he turned the ball over just once in the May 7 loss. Wall committed seven turnovers Friday night.
"He just has to stay aggressive," Wittman said about Wall, who scored 15 points. "I thought he had some hesitation a little bit in his game tonight, which we never see. But hey, he has to fight through it. We all do."
Wall wasn't the only Washington player off his game.
Washington big men Nene (power forward) and Marcin Gortat (center), who have been a dominating duo in the paint and on the boards, were held to a combined 12 points. Gortat also added 10 rebounds.
Washington's defense had a tough time containing Indiana's sharpshooting small forward Paul George, who ended the game with 23 points.
Former Georgetown center Roy Hibbert returned to his old college arena and was met by a chorus of boos for wearing the Indiana jersey. Hibbert, who has come under heavy scrutiny this postseason for his failure to produce, turned in 14 points, 5 rebounds and three blocks.
"When we play defense, we give ourselves a chance to win," Ariza said. "Tonight, we did neither, and [the loss] is what happens when you don't play defense."
The series resumes this Sunday afternoon in a high-stakes Game 4 before another electric and likely sold-out crowd.
Wittman believes his team will rise to the challenge.
"We've got to put this game to rest and come out Sunday and get the win," he said. "That's what it all boils down to. We need to come back here, get that game and then we go back to Indiana."