Combs to Howard Graduates: 'Go after Your Dream'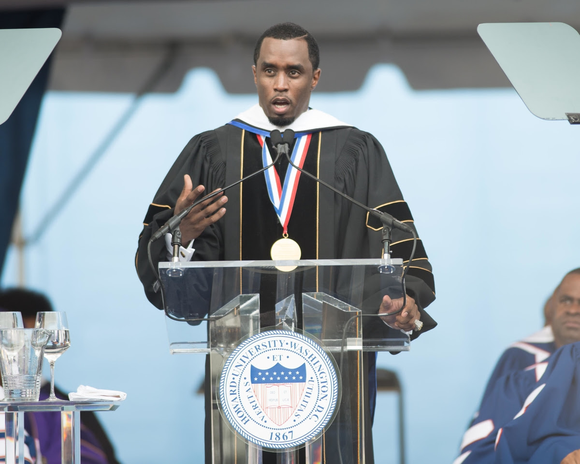 Entrepreneur and philanthropist Sean Combs, who presented the commencement address at Howard University to more than 2,600 students on Saturday, May 10, encouraged the Class of 2014 to be fearless, decisive and to fully embrace their inner power.
"Do you know how powerful you are?" Combs asked. "When you leave here today, go forth with the knowledge that you have the power to change the world. Embrace your power and turn your dreams into reality."
Combs shared insights from both his time at Howard and his own personal experiences, stressing the support of his mother, the importance of believing in oneself and not being afraid to fail.
He also credited his late father for inspiring his business acumen.

"I made a conscious effort to follow the entrepreneurial spirit of my father, the legal way," said Combs. "I want you to take the craziest dream in your head – the dream that you're too embarrassed to tell anyone else about, and I want you to go after it."
Combs, chairman, CEO and founder of Combs Enterprises -- one of the world's preeminent group of companies and brands -- received an honorary Doctorate of Humanities in recognition of his achievements as an entrepreneur and champion of education.
Howard also granted honorary doctorate degrees to Wolf Blitzer, CNN's lead political anchor; Clive Callender, M.D., professor of Surgery at the Howard University College of Medicine and the first physician to perform a transplant at Howard University Hospital; Benny Golson, internationally renowned jazz legend; and Indra K. Nooyi, chairman and CEO of PepsiCo.
Wayne A.I. Frederick, interim president, pointed to this year's record-breaking number of 105 graduates from the university's Ph.D. programs as reason for special pride and optimism. He charged the graduates to frame their degrees with love, mentorship, service, compassion and philanthropy.
"You earn your degree not just to adorn your wall, but to change the world around you," Frederick said. "Consider what you knew when you entered Howard's gates and consider what you now know, what you now can do, and what you now are in a position to become in the next 20 or 30 years," said Frederick. "That transformation is what this university is about."