Peebles to Build Hotel at 5th and I Streets
WI Web Staff | 5/11/2014, 11:31 p.m.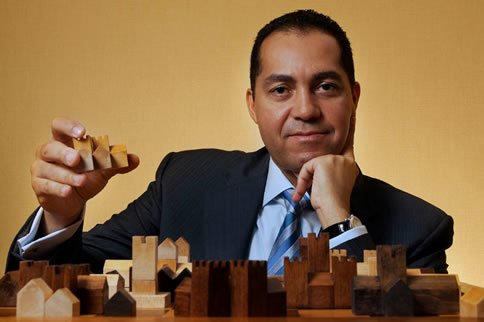 R. Donahue "Don" Peebles, a multi-millionaire developer of luxury hotels, high residential and commercial projects in Miami Beach, Florida, Las Vegas, New York City and Philadelphia, who got his first deal in the District, has been selected by The Walker Group to redevelop a property at 5th and Eye streets in Northwest into an upscale hotel and residences.
Peebles, who's at the helm of the largest black-owned real estate development company in the country, will also work with WDG Architecture of Northwest Washington, the California-based MacFarlane Partners which is led by Victor MacFarlane -- a wealthy African American commercial real estate developer -- and Standard Group of Alexandria, Virginia, to build a 13-story hotel and 59 market-rate residences and 100 affordable housing units. The project is expected to hundreds of jobs and more than $8 million in new revenue for the District.
Peebles, a District native who's been listed as one of the 10 wealthiest black Americans, is happy that the project is taking shape.
"We are humbled by all of the community support and look forward to bringing to District residents culturally and economically transformative project, one that will bring tourism and revenue to the city," said Peebles, 54, owner of the Courtyard by Marriott-Convention Center in Northwest.

D.C. Mayor Vincent Gray (D) praised the Peebles project.
"The Peebles Corporation and Walker Group will transform this valuable site into a thriving and productive asset that will serve the District of Columbia and beyond," Gray said.