Larry Wilmore to Replace Stephen Colbert on Late-Night Show
5/13/2014, 11:54 p.m.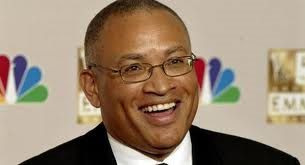 Late night television is about to get its second black host.
The New York Times is reporting that Comedy Central has inked a deal Larry Wilmore to replace Stephen Colbert at the end of the year when he assumes the helm of "Late Night with David Letterman" on CBS.
Wilmore is best known as the "senior black correspondent" from "The Daily Show" with Jon Stewart, and Stewart's production company, Busboy Productions, will create the show.
Comedy Central's president, Michele Ganeless, said the show will have a scripted format that would "provide an opportunity for the underrepresented voices out there."
Wilmore will be the second African-American host of a nationally televised late night show. Arsenio Hall's talk-show, first introduced in 1989 and ran until 1994, returned to the air in beginning in September 2013. It's running in syndication via stations in the Tribune Broadcasting network and other outlets through CBS Television Distribution.
Wilmore, who has been with the cast of The Daily Show since 2006, is no novice to television. His numerous credits include the creation of the critically acclaimed "Bernie Mac Show," which captured an Emmy Award and a Peabody Award.
Beginning in the 1980s, Wilmore appeared as an actor in several small film and television roles, including a recurring role as a police officer on The Facts of Life.
In the early to mid-1990s, he was on the writing staff of the talk show Into the Night With Rick Dees, the sketch comedy show In Living Color, and the sitcom Sister, Sister, where he portrayed a bus driver in one episode. Wilmore went on to be a writer and producer on a series of sitcoms, including The Fresh Prince of Bel-Air and The Jamie Foxx Show.
In 1999, Wilmore co-created the animated comedy The PJs with Eddie Murphy and was executive producer until its conclusion in 2001.
He subsequently co-created and produced "The Bernie Mac Show," and he won an Emmy for writing the pilot episode. He also created and produced "Whoopi" with Whoopi Goldberg.