May: National High Blood Pressure Education Month
5/13/2014, 11:45 p.m.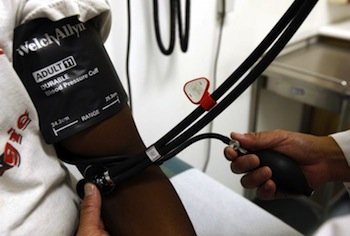 High blood pressure affects 68 million Americans—that's nearly one in three adults.
In the DC metropolitan area, the numbers are just as startling. According to local data, prevalence rates in the area are as high as 55 percent.
The month of May being National High Blood Pressure Education Month, serves as an important opportunity to educate patients about this disease. Particularly for African Americans, who have significantly higher rates of the disease.
Although nearly 46 percent of African-American women have high blood pressure, compared to 32.2 percent of all women, the rates for black men are similar. Forty-three percent of African American men have the disease versus 34.1 percent of all men. Other points to consider are that African Americans:

• Tend to get high blood pressure earlier in life
• Often have more severe high blood pressure
• Are less likely to achieve target control rates with treatment, and
• Have higher rates of early death from related problems, such as coronary heart disease, stroke, and kidney failure.
Three local medical groups and health systems—Inova Medical Group, Kaiser Permanente, and MedStar Health—are taking part in the "Measure Up/Pressure Down® National Day of Action: Roll up Your Sleeves!" on Thursday, May 15.
The event is a one-day nationwide effort for campaign supporters around the country to roll up their sleeves and take at least one "action" in their local community to raise awareness of high blood pressure.
At locations across the area, the groups will raise awareness of the "silent killer" and improve control rates with free screenings and educational sessions.