Combs Electrifies Howard Crowd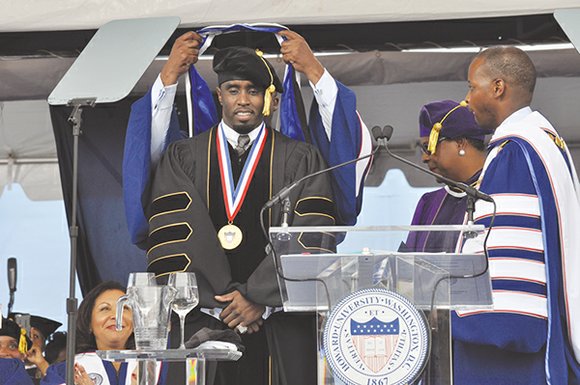 "The university's legacy is in your hands," he said. "Those who came before gave you a great deal on which to build. The class of 2014 cannot and will not forget to return the favor. The sacrifices of those who came before us have set the precedent … Be well, give back and make lots of money."
Supporters of Combs have likened him to other successful entrepreneurs such as Steve Jobs and Bill Gates who dropped out of school but were invited back to be the commencement speakers at their alma maters.
Combs lamented having left school early.
"Sometimes you don't have time to prepare for your marathon. If I didn't leave school early, I'd have been (better) prepared," he said. "I didn't understand economics because I wasn't in economics class and my secretary said I shouldn't say certain things in meetings like that. But today you're all prepared. You've earned it."
Combs reminded graduates of their power and told them they will change the world, adding that he can't wait to see the magnificent things they will do. He also told them he fails every day.
"Be real, be honest with yourself of what it will take to succeed," he said. "You're gonna have to go out there and get it. The only way forward is to decide that you want that dream, stay up later, get up earlier and push past the doubters."

Philadelphia native Kimora Lamott beamed as she recalled her time at Howard.
"It was amazing, surreal. It's actually unreal. It passed by so fast," said the 22-year-old advertising major. It's really exciting with everything that's going on. Being at Howard was amazing and life-changing. I really can't imagine going to any other school. I visited other schools but I figured this was where I needed to be."
Michigan resident Robert Allen, 60, now the proud father of two Howard graduates, agreed.
"My daughter D'Amber earned a bachelor's degree. It's been wonderful. This is my second child to graduate from here so all of our money has come to Howard," Allen joked. "In a nutshell, there was maturation with her going away to school. She came to a university steeped in history and she realized that there's a mass of intellect out there and that she's a part of that."
"She was around like-minded people who're very competitive and who're also focused and determined. For that, I'll be eternally grateful."
Allen, a contract officer with the Department of Defense, said he appreciated Combs' presence and comments.
"I thought it was good because the graduates relate to him. It's always good to have that generational connection," he said. "This is a Millennial Generation so that's important. It was an excellent speech."