COMMENTARY: As Expected, Clowney Goes First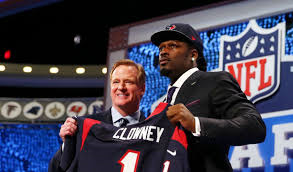 One of the most interesting subplots revolved around historical college football powerhouse,
the University of Texas Longhorns, and whether they would have any players drafted. After the names
of all 266 players were called, not one of them was a Longhorn.
This year's draft also focused on a story of tremendous courage. A few months ago, Michael Sam,
a University of Missouri defensive end, announced that he was gay. His college football career had
already ended, but he was looking forward to being selected in the 2014 draft.
His declaration of being openly homosexual was carried by national news outlets. Primarily because we had never seen a player who was bold enough or had the courage to come forward and tell the world that not only were they gay, but they planned to play in the NFL.
Sam is not only a quality linebacker, but he was voted the 2013 Southeastern Conference Co-Defensive
Player of the Year. The St. Louis Rams drafted Sam in the seventh round with the 249th overall pick. St.
Louis is only 125 miles from Columbia, Missouri, where Sam played his college football. When Rams'
head coach Jeff Fisher spoke with Sam via telephone to share the great news, Sam was overcome with
emotion.
It was a very powerful and historical day for both Sam and the NFL. Sam received several
tweets of support and encouragement from players, fans, and even President Barack Obama.
As NFL drafts go, the 2014 version was great! It was loaded with very good players, interesting subplots
and twists, and it marked its place in history.
Over the next few months, NFL teams will go through OTA's, mini-camps and training camps in preparation for the start of the regular season. If this year's draft is any indication, the upcoming season should be a real treat.