D.C. Leads in Early Childhood Education Programs
WI Web Staff | 5/14/2014, 12:06 a.m.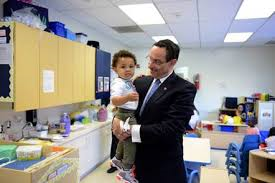 A newly-released national report reveals that when it comes to state-funded early childhood programs, the District is second to none, and Mayor Vincent C. Gray couldn't be happier.
The study, which was released on Tuesday, May 13 by the National Institute for Early Education Research at Rutgers University in New Brunswick, New Jersey, shows that the District, which is first in the nation in public funding for early-childhood programs, also leads in percentages for 3- and 4-year-olds enrolled in pre-K programs. In addition, while 94 percent of the District's 4-year-olds are enrolled in pre-kindergarten classes, 80 percent of 3-year-olds are also participating in the programs, according to the study.
During his 10-year political career, Gray has made universal pre-K one of his main platforms.
"From my time on the D.C. Council until today, I have been a passionate advocate for making universal pre-K a reality in the District-and it's hard to overstate how proud I am of this report's findings," Gray, 71, said.
"The District of Columbia is the only [jurisdiction] in the nation where we can truly say that every child who wants a spot in an early-childhood program has access to one," said Gray. "The District has worked hard and invested millions of dollars to achieve universal pre-K, and we are only beginning to see the incredible dividends we will reap from these crucial investments in our most precious resource."