District Raises the Bar for Senior Services
Plans Underway to Make D.C. 'Age Friendly'
D. Kevin McNeir | 5/14/2014, 3 p.m.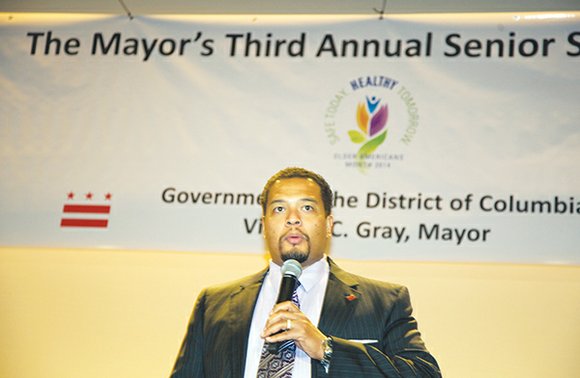 The American panorama continues to change colors, becoming distinctively gray as life expectancies rise and citizens live longer due in part to medical and technological advances. However, with extended life comes the need for services that directly target senior citizens.
And to address the concerns of the District's aging population, city officials shared valuable information at a symposium that kicked off Older Americans Month.
"Over the past three years, we have increased our budget for the Office on Aging by 50 percent because of our commitment to those who have paid taxes and worked hard on behalf of the District of Columbia," said D.C. Mayor Vincent C. Gray. "There are 104, 000 seniors living in the District and to accomplish our goal of becoming a more inclusive city we must address their particular needs," Gray, 71, told a crowd of spry seniors.

More than 1000 people, most of them over the age of 65, attended the Mayor's Third Annual Senior Symposium on May 7 at the Hyatt Regency Washington on Capitol Hill in Northwest. The event connected seniors, persons living with disabilities and caregivers with health and human services providers, advocates and experts on aging.
John M. Thompson, Ph.D., executive director, D.C. Office on Aging, said if the District intends on becoming an age-friendly city, it must employ more cutting-edge programs that allow seniors to live independently.
"Between 2011 when I was hired and now, the mayor has increased our office's budget by $17M," Thompson said. "We've overhauled senior transportation to address both life-sustaining needs like doctor visits as well as helping them get to shopping venues or leisure activities. And in response to growing requests, we will soon increase the hours for our wellness centers that will include weekends."
Workshops held throughout the day targeted subjects critical to a better quality of life for seniors including: long-term care support and services; the key components of senior villages; accessible nutrition; affordable and accessible housing; facts about abuse and exploitation of seniors; and improving the quality of care for those living with dementia.
Two commissioners representing the Office on Aging, Brenda Williams and Charles "Chuck" Hicks, participated in the lively discussions.
"Gentrification has changed the look of this city, especially over the last 15 years," said Williams, 67, a native Washingtonian who lives in Historic Mt. Pleasant in Northwest. "I've been in the same home for over 50 years. Other seniors like me can't imagine leaving their homes. But if we did where would we go? There's a dire need for more assisted living housing in the District."
She added that newcomers that move to older, long-standing communities often lack sensitivity and have little respect for tradition.
Hicks, 68, said serving on the commission changed his perspective on how seniors view themselves.
"People that are at least 65 and even well into their 70s don't consider themselves old," he said. "That's because we're still doing many of the things we've always done: exercising, dancing, going to plays and clubs. You'd be surprised at the number of positive activities that go on at senior housing communities in the District. And we vote as a bloc in order to make sure our needs are being met."