EDUCATION BRIEFS: Schimel Award Offers $2,500 for High School Teachers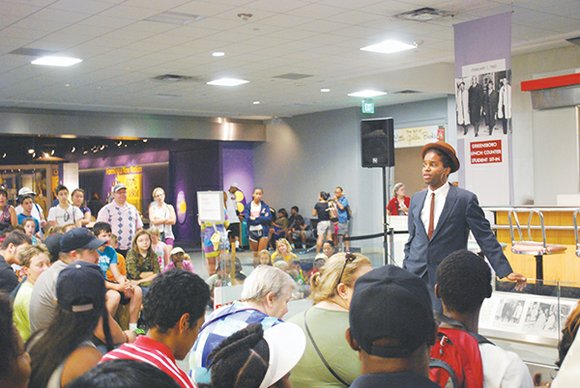 Award for High School Teachers
Nominees for the "Abraham Lincoln Schimel and Beatrice Schimel Award for Excellence in Teaching Leadership" will have an opportunity to engage in a review session workshop from 6:30 p.m. to 7:30 p.m. Thursday, May 15 at the Humanities Council of Washington, D.C., located at 925 U St. in Northwest.
The Schimel award recognizes District educators who use innovative methods through humanities courses that include art, history, English, and theater arts to teach students how to be leaders.
District of Columbia high school teachers nominated by their students and colleagues, are eligible for the $2,500 award which includes a $1,250 cash prize and a $1,250 for investment in curriculum development materials.
The deadline for award application submissions is Friday, May 30 and educators can apply at www.wdchumanities.org/humanities-project-funding/teaching-leadership.
For more information, please call Michael Chambers, programs and marketing manager at mchambers@wdchumanities.org or 202-387-8391 ext. 4.
New Curriculum
A group of 30 District teachers, parents and Central Office staff recently launched a task force to create a new curriculum in support of student learning.
The task force for the "The City as Our Classroom" curriculum will meet over the next several months to create a guidance document for teachers to use in helping students during the 2014-2015 school year.
"Our city is filled with history, culture, experiences and sites that correspond with what our students are learning in their classroom," said Chancellor Kaya Henderson, 43. "I want our teachers to use our city to bring their classroom lessons to life for our students. D.C. has so much to offer – I am excited that this task force is going to create a comprehensive and living document to help us leverage the unique cultural and natural resources of the District and beyond."
The task force will review the K-12 literacy, math, science and social studies curriculum and develop a series of meaningful experiential learning opportunities that correspond to the school system's curriculum.
Over the next four months, the task force will split into small groups, with each focusing on a specific grade to target learning in a way that is developmentally and age appropriate.
The task force will also conduct focus groups with teachers and school leaders.
The final meeting will include presenting the findings to Henderson before the curriculum becomes available to teachers in the fall.
Art Showcase
The DC Public Education Fund recently presented an "Art Night Showcase and Auction." The proceeds will benefit the city's public schools.
The event, which was held May 14 at the Pepco Edison Gallery in Northwest, featured student art, special presentations, and guest performances.
Art Night follows in the tradition of the annual "Standing Ovation" which honors outstanding teachers.