Gwen Ifill Honored for Journalism Excellence
PBS Anchor to be Roasted at Press Club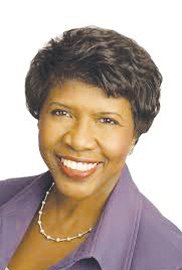 There's little argument about Gwen Ifill's standing as one of the most successful female African-American newswomen in journalism history.
With a career that's spanned five decades, Ifill boasts 15 honorary degrees recognizing her work which includes jobs at the Washington Post, New York Times, and NBC News.
Currently, the moderator and managing editor of, "Washington Week" and co-anchor and managing editor for "The PBS NewsHour with Gwen Ifill and Judy Woodruff," Ifill will be honored by the American News Women's Club (ANWC) with their prestigious, "Excellence in Journalism Award."
"Gwen's career spanning print and broadcast journalism has been an inspiration to many others who might have been tempted to believe the barriers to their success were insurmountable," said Karen James Cody, the co-chair of the event, which will take place on Monday, May 19, at the National Press Club in Northwest.
The 6:30 p.m. ceremony will include several of Ifill's current and former colleagues who will roast the PBS newswoman throughout the evening.
Dorothy Gilliam, a participant in the roasting, said Ifill's career should serve as a model for aspiring journalists.
"Gwen is an extraordinary person with brains and heart who's also made a tremendous impact on the world of journalism for all women, but especially for African-American women," said Gilliam, 77, the first black woman ever to be hired at the Washington Post.
"Gwen's career is extraordinary for anyone, any journalist whether black or white," said Gilliam, who noted that she speaks as one who knows the pressures of being an African-American news woman.
"That she's been such a trailblazer in the media is also a major statement for people of all ages and races and certainly for young African Americans," Gilliam said.
"I think it says to them that excellence does pay off and, it's important to note that, if Gwen weren't truly excellent in each of her endeavors, she would not have been promoted to the next level so many times."
Located in Northwest, the ANWC opened in 1932 with a group of female reporters and writers employed at newspapers in the District who weren't allowed membership into the famed National Press Club until 1971.
The ANWC continues to support female journalists and, each year; officials present scholarships to at least three students who attend a college or university in D.C.
The club also bestows upon a professional journalist their highest honor and officials said the recipient must stand out as a leader in the profession.
"Gwen is the first black person to be so honored and she was a unanimous choice," said Cody, who noted that the club honored ABC News legend Barbara Walters last year.
"Gwen is definitely a trailblazer who started her career in [Boston] and has never looked back," she said.
CNN's chief political correspondent Candy Crowley will emcee the event while roasters include Gilliam, Slate Magazine and CBS News political director John Dickerson, CNBC's John Harwood, ABC News' Martha Raddatz, and Al Jazeera America's Ray Suarez.
Julie Chase, who's serving as chair for this year's award ceremony and roast, said Ifill's career accomplishments could not be overlooked.