Health Care Improves For District Minorities
Report Suggests Insurance Gap Closing for Underserved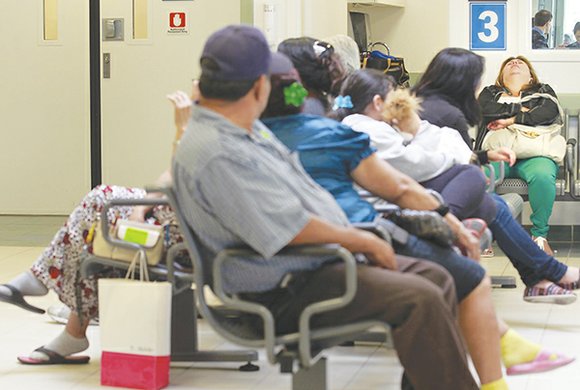 African Americans and Latinos in the District of Columbia routinely visit their primary care doctors and receive regular preventive care to ward off possible illnesses and other medical problems.
A new report titled, "Aiming Higher: Results from a Scorecard on State Health System Performance, 2014," released on April 30, indicated that the District placed first out of 51 states when it comes to at-risk adult minorities who've visited their family physicians over the past two years.
Issued by the Commonwealth Fund, a Northwest-based nonpartisan group which supports independent research on health care issues, the report's authors placed D.C. as the 24th best in ethnic and minority mortality rate amenable to health care – which means deaths that are considered avoidable due to medical intervention.
"Relative to the rest of the country, D.C. is doing a pretty good job. They are doing a lot better, it's a good report for the District of Columbia," said the report's lead author David Radley, Ph.D., of the Institute for Healthcare Improvement in Cambridge, Massachusetts.
Also, the District placed seventh in overall equity gap, or affordability of health care for minorities.
"To access change over time, we count how often the equity gap narrowed across indicators for each state during the five years of data available," Radley said.
"We consider improvement to have occurred only if the equity gap narrowed and health care for the states' vulnerable groups improved."
Forty-two measures comprised the overall findings, including access to care, preventive visits, quality of treatment, race and ethnic gaps; and lifestyle issues, such as smoking.
The report includes the period of the Great Recession from 2007 to 2012, and precedes the major coverage expansions of the Affordable Care Act, or ACA.
The District placed 21st in terms of overall health care, up from 24th in 2009, the last time experts conducted the study.
Residents and health officials said they're pleased, but cautiously optimistic about the closing gap in health care access and affordability for minorities.
Some said the encouraging statistics also have a lot to do with better access to their family physicians.
"There were plenty of times where my brother and I didn't go to our primary care doctor because appointments had to be scheduled months in advance, the wait time was too long and we both had to get to work and couldn't afford to wait around," said Lawrence Wheeling, a cement worker who lives in Northwest.
"Sometimes, it's just inconvenient, but we understand that, especially for those of us who are black, there are these agencies pushing us to have regular appointments and I guess this report shows that we're listening," said Wheeling, 51, who added that he and his brother Victor Wheeling, 53, both recently signed up for coverage under the ACA.
However, there remain many obstacles to better access and quality health care for blacks and Latinos, said officials at the Howard University College of Medicine in Northwest and the D.C. Department of Health in Northeast.
"We know that 93 percent of adults in D.C. are covered and 96 percent of children have health insurance, because the District has spent a lot of [money] to make sure that our residents are covered," said the health department's communication's director, Najma Roberts.