UDC Graduates Urged to Persevere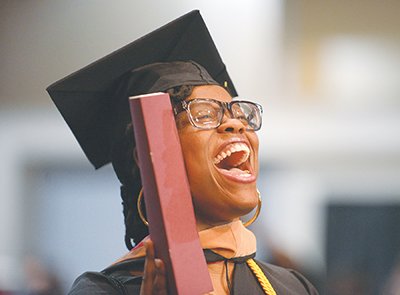 Teresa Moore could barely hold back the tears that trickled down her face Saturday during the University of the District of Columbia's (UDC) commencement exercises.
Overcome with emotion, the proud mother, cried as her daughter, Nicole Moore, 37, walked across the stage to receive her degree in law enforcement.

"I am so overwhelmed. It wasn't easy for her. It was a struggle. She had three children, then went back to school for her GED," said Teresa Moore, 57, who dabbed her soft brown eyes with a tissue every now and then. "I came all the way from Scotland Neck, North Carolina, for this event which will make tomorrow my best Mother's Day ever."
Nicole Moore counted among more than 800 UDC students to earn undergraduate and graduate degrees during the school's 37th annual commencement on Saturday, May 10 at the Walter E. Washington Convention Center in Northwest.
Historian Mary Frances Berry, one of the nation's leading authorities on civil rights, served as the keynote speaker. And, in doing so, she challenged UDC's newest alumni – many of whom donned stoles of red and white, pink and green, purple and gold, symbolic of their memberships in various Greek organizations – to persevere.
"Your degree shows that you are [already] persistent. Some of you were here for four years, some longer, but the most important thing is that you [stayed the course and] are graduating today," said Berry, 76. "You have a responsibility to make a contribution to society, and because you've learned how to build on what you have, with your perseverance you can face any challenge."
Berry, who went on to point out the fast-paced evolution of technology, also cautioned the new graduates to be careful how they use social media.
"Beware of what you post, as it can come back to haunt you," she said, before shifting her attention to ills that continue to plague society.
Several of her points centered on the state of the economy, education reform and the civil rights movement – which she labeled a success. But the former commissioner and vice chairman of the U.S. Commission on Civil Rights admonished those who have failed to pass along the torch.

"Some of the people who have benefited from the movement find that backsliding is the right thing to do," said Berry. "Dropouts are not children who failed, but children that we [as a society] failed a long time ago. . . Kids are not to blame for discipline problems, their parents are the problem," she said.
Berry, who said "leaders are not born, but made," also questioned whether in the future, the country will boast another African-American president or a Latino commander-in-chief.
"Will either be good for the country – or just make blacks and Latinos feel better about themselves?" she asked.
In addition to Berry, who received a Doctor of Humane Letters degree for her leadership in education and civil rights, the Hon. William Spaulding, who served on the first D.C. City Council, also received an honorary degree for his work in education and public service.

Marie Johns, former deputy administrator for the Small Business Administration received an honorarium for her contributions in business and technology.
UDC interim President James Lyons presided over the three-hour ceremony, where a sea of the graduates' families, friends and supporters packed a ballroom at the convention center.
Before the ceremony got underway, Lyons amused the audience with some light-hearted humor.
"Tell Ray Ray, Tamika and all the other graduates how much you love them," said Lyons, who then flashed a broad smile and in return, received a loud and lengthy round of applause along with cheers from the crowd.
Afterward, in a moment reminiscent of a scene from the recent Academy Awards, David Catania (I-At-Large) – who extended greetings on behalf of the D.C. Council – paused to take a "selfie" for his Facebook page. The audience roared with laughter.