Victims of Domestic Violence Enjoy Mother's Day Lunch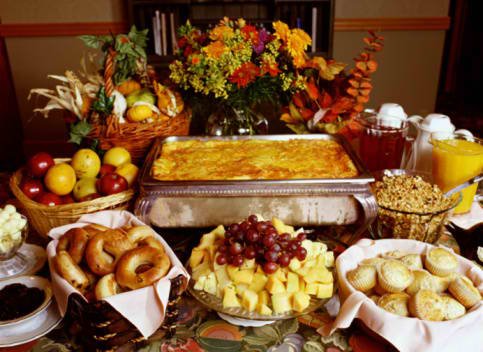 The family of a toddler who some call "the youngest domestic violence victim" turned personal tragedy into a vehicle for giving back to domestic violence victims in D.C.
Metropolitan Police Department officer Derrick Ferguson and his wife Roshann hosted a Mother's Day luncheon for residents of Freddi House in Northwest, a 30-day safe house for women and children who are domestic violence victims. The Ferguson's three-year-old granddaughter Kodie, the guest of honor and a victim herself, had been shot in the face by her father when she was 23 months old.
Roshann Ferguson lost her daughter Selina, Kodie's mother, to domestic violence on December 9, 2012 in the same incident which involved Kodie. "I feel like I'm to blame for what happened to my daughter," she told the group of 13 women at the Saturday, May 10 luncheon. Her eyes filled with tears. "I was a victim of domestic violence. I think Selina saw me [stay in our home] and decided it was OK [to live with it]."
"I survived, and I thank God that I got out of it. I tried to get Selina help but when she finally woke up, it was too late."
Kodie's father, Javon Foster, shot Selina several times and killed her while Selina and Kodie were boarding a Metrobus near 18th Street and Minnesota Avenue Southeast. Selina Brown held Kodie in her arms. A bullet struck Kodie's cheek below her eye, shattering the bridge of her nose and gouging out an eyebrow over her other eye. Days later, Foster committed suicide in New York.
"I lost a niece to domestic violence five years ago," Roshann Ferguson told the women at Freddi House. "And I remember my grandfather beating my grandmother. Having this luncheon is therapy for me."
The Fergusons adopted Kodie, and decided to assist victims like those in their family.
Rozier "Roach" Brown [no relation], a WPFW-FM radio personality and advocate for formerly incarcerated citizens returning to D.C., also works with domestic violence victims as a Freddi House founder. He heard about Kodie, and on Christmas 2013 made her the honoree at his annual Free Christmas Day Dinner hosted by the radio station, Torrie's @ Wilson's Restaurant in Northwest, and his Inner Voices organization that aids returning citizens.
"The event was aired nationally through [live streaming] on the Internet," said Brown. "One of the listeners was Deborah Alessi, who founded Face Forward, a nonprofit in Beverly Hills, California." Face Forward provides free reconstructive surgery on individuals disfigured through violence. It also lends emotional support to victims.
Alessi and her husband, Dr. David Alessi, a plastic surgeon, agreed to fly Kodie and her family to California, all expenses paid, for the first of four reconstructive surgeries on Kodie's face. The free surgery this April repaired Kodie's tear duct and bones in her nose.

The Fergusons, family members and friends established the Selina and Kodie Brown Foundation with assistance from Rozier "Roach" Brown. It will raise funds for Face Forward, allowing the organization to underwrite more free reconstructive surgeries.