Newspaper Publishers to Address Newseum Event
5/15/2014, 9:01 a.m.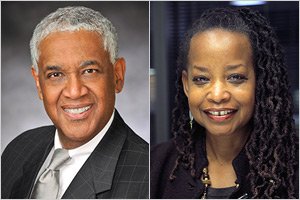 The executives of two black-owned and operated newspapers that boast a long history of service in the D.C. region, will participate in the May 17 opening of the Newseum's new exhibit, "One Nation with News for All."

Denise Rolark Barnes, publisher of the Washington Informer and John J. Oliver, board chair and CEO of the AFRO, will talk about the state of the African-American press.
The new exhibit, which tells the dramatic story of how immigrants and minorities used the power of the press, highlights the role of the black press as it crusaded against racism and injustice, mobilizing support for what became the civil rights movement.
Oliver also serves as publisher of the AFRO, which was founded in 1892 and publishes newspapers in Washington and Baltimore.
The Informer was founded in 1964 by Rolark Barnes' father, Dr. Calvin Rolark, to highlight positive images of African Americans in the Washington area.
The program, which is free with regular paid admission, takes place at 2:30 p.m. Saturday at the Newseum's Knight TV Studio.
The Newseum is located at 555 Pennsylvania Ave. in Northwest.
The program is free with regular paid admission. Seating is on a space-available basis.