Brooks Tapped as New NAACP President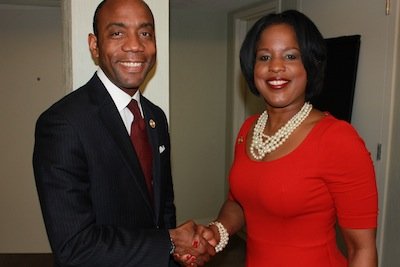 Cornell William Brooks will serve as the NAACP's next national president and CEO, the organization announced Saturday.
Brooks, who is currently president and CEO of the New Jersey Institute for Social Justice in Newark, N.J., will succeed Ben Jealous, who resigned in September.
"I am deeply humbled and honored to be entrusted with the opportunity to lead this historic organization," said Brooks, will take office in July at the organization's national convention in Las Vegas. "In our fight to ensure voting rights, economic equality, health equity, and an end to racial discrimination for all people, there is much work to do. I look forward to working with the dynamic board and staff, and continuing the important work of the association in advancing racial and social justice and equality for all."
His resume includes stints in the District as a senior counsel for the Federal Communications Commission, executive director of the Fair Housing Council of Greater Washington and as a trial attorney with the Lawyers' Committee for Civil Rights under Law. He is a graduate of Jackson State University in Jackson, Miss., a Master of Divinity from Boston University School of Divinity in Boston and has a law degree from Yale University.
"Mr. Brooks is a pioneering lawyer and civil rights leader, who brings a wealth of knowledge and experience to the association," said Roslyn Brock, chairman of the NAACP's board of directors. "We look forward to leveraging his legal prowess, vision and leadership as we tackle the pressing civil rights issues of the 21st century."
Al Sharpton's National Action Network also issued a statement in support of Brooks.
"Cornell Brooks will bring his experience as a civil rights lawyer and public service to the NAACP as they continue to eliminate discrimination and injustice on all fronts," the statement read. "His background in criminal justice in New Jersey gives him unique qualifications to join the national civil rights leadership, as we continue to fight unfair sentencing laws and other inconsistencies within the criminal justice system."