Obama Issues Proclamation on Anniversary of Brown V. Board of Education
5/18/2014, 3:01 a.m.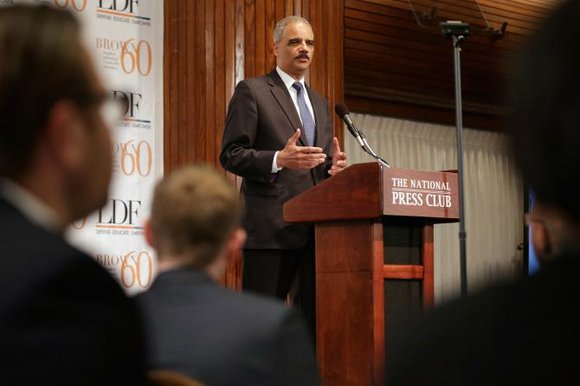 In commemoration of the 60th anniversary of Brown v. Board of Education, President Barack Obama issued a proclamation on Thursday regarding the historic ruling that marked a turning point in America's history.
The May 17, 1954 Supreme Court decision stated that separate educational facilities for blacks were inherently unequal.
"On that day, the Supreme Court handed down a unanimous decision in Brown v. Board of Education, outlawing racial segregation in our nation's schools," Obama said. "Brown overturned the doctrine of "separate but equal," which the Court had established in the 1896 case of Plessy v. Ferguson," said Obama. "For more than half a century, Plessy gave constitutional backing to discrimination, and civil rights organizations like the National Association for the Advancement of Colored People faced an uphill battle as they sought equality, opportunity, and justice under the law."
The case was actually an umbrella lawsuit that included a number of cases challenging school segregation. John Stokes, one of the plaintiffs covered under the Brown litigation, helped lead a student strike of an all-black school because of wretched building conditions.
The president, who encouraged all Americans to join him on Saturday, May 17 in commemorating the landmark case with programs, ceremonies and activities, went on to say that "Brown had unlocked the schoolhouse doors, but even years later, African-American children braved mobs as they walked to school, while U.S. Marshals kept the peace . . . and that a decade after the Court's ruling, Brown's moral guidance was translated into the enforcement measures of the Civil Rights Act and the Voting Rights Act."
Said Obama, "On the 60th Anniversary of Brown v. Board of Education, let us heed the words of Justice Thurgood Marshall, who so ably argued the case against segregation, "None of us got where we are solely by pulling ourselves up by our bootstraps. We got here because somebody...bent down and helped us pick up our boots. Let us march together, meet our obligations to one another, and remember that progress has never come easily -- but even in the face of impossible odds, those who love their country can change it."