Divas Honor Late Coach, Defeat Atlanta, 44-0
Neal Rozendaal | 5/19/2014, 11:36 a.m.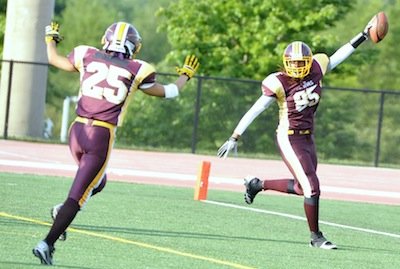 Several former Divas gathered for a halftime ceremony to honor Ezra Cooper. Cooper, who served as the Divas' head coach from 2001-2008, passed away this past off season. Former star Divas running back Monica Livingston read a speech to the crowd, including a letter of support and encouragement from Jill Cooper, Ezra's wife. In a nod to Cooper's philosophy of "playing for the name on the front of the jersey rather than the name on the back," the Divas covered their names on the backs of their jerseys for this game in his honor.
Kenyetta Grigsby started the second half scoring with a 14-yard touchdown run early in the third quarter. Grigsby's run put the Divas ahead, 37-0. Grigsby had a spectacular game, rushing for 161 yards on just 13 carries with one touchdown.
Williams threw her second touchdown pass of the contest minutes later, and once again, her favorite target was Kentrina Wilson. Wilson continued to claim her place as one of the best wide receivers in women's football by hauling in the 15-yard scoring strike, her third of the game. Kentrina Wilson ended the game with five catches for 60 yards and three touchdowns. The Divas led, 44-0, after three quarters.
As was the case in the Divas' previous two games, the only fourth-quarter drama involved whether or not the Divas' defensive reserves could preserve the shutout. Once again, the D.C. defense rose to the challenge, as Callie Brownson ended Atlanta's best scoring threat with an interception at the one-yard line. Twenty-two different Divas recorded tackles in the game. Trigger McNair paced the team with eight tackles, and Brownson and Eleni Kotsis each added six.
With the 44-0 shutout win, the Divas' defense has now gone over 13 quarters of play without surrendering a point. The victory also turned into a historic defensive performance for the Divas franchise, as it was the 50th shutout victory in team history. Thirty-five of those shutout victories came during Ezra Cooper's head coaching tenure from 2001-2008.
The Divas now have an even fifty shutout victories under their belts, and that's a milestone that surely would have made Coach Cooper smile.