Empower DC Holds City's Feet to Fire on School Closings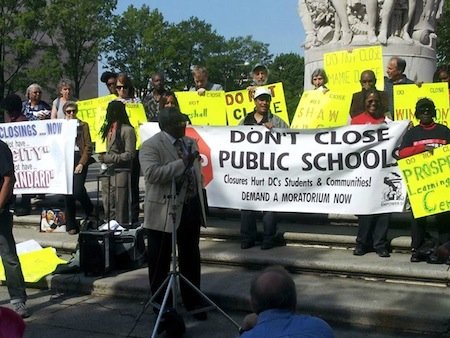 A spokesperson for Empower DC said the group recently returned to court to prove the city unjustly closed 15 District public schools last year.
Members of the grassroots community-advocacy organization and several parents teamed up in federal court Thursday to refute the shuttering of 15 schools, most which were located east of Rock Creek Park in Wards 5, 7 and 8.
The organization initially sued in the matter against the city in March 2013.
"We have not filed an additional lawsuit, but are continuing our efforts [regarding] counts in it which allege discrimination took place," said Daniel del Pielago, who manages education issues for Empower DC.
"The mayor filed for a motion for summary judgment, which means that the city essentially doesn't want to go forward with a trial, so they've asked the judge to make a decision," he said. "Obviously, they're saying that their case doesn't hold water."
Del Pielago said once the judge allowed counts involving discrimination to move forward, Empower DC began the discovery process.
"We literally have thousands of emails from the chancellor, people in the public schools system and the mayor, making their positions — and we've built our response, saying that there was an ulterior motive to closing the schools," he said.
Empower DC's opposition to the city's summary judgment coincided with the 60th anniversary of the Supreme Court's historic Brown vs. Board of Education decision, which ended segregation in public schools.
"The vision of high-quality and integrated public schools … has been steadily and intentionally replaced in the District of Columbia by a divided system in which certain, mostly white, affluent students west of Rock Creek Park enjoy the benefit of serious investments in their traditional public schools — while mostly black students, east of the park, witness their public schools being closed and increasingly and intentionally replaced by publicly funded, but privately operated charter schools," the organization stated in court documents.