Gray, Norton: Court Ruling on D.C. Budget Autonomy 'Bittersweet'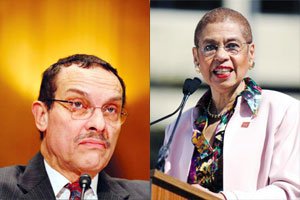 D.C. Mayor Vincent Gray and Delegate Eleanor Holmes Norton technically defeated the D.C. Council and advocates of a 2013 budget referendum in federal court Monday — but they're far from happy about it.
The mayor and the delegate have argued that Congress still holds the authority to approve the District's budget despite an April 2013 referendum that had more than 80 percent of District residents saying that they want budget autonomy.
U.S. District Court Judge Emmett Sullivan agreed with Gray and Norton and dismissed budget autonomy advocates who argued that the home rule charter allows citizens to enact laws through referendum and if Congress does not negate the results of the vote.
Gray (D) said that he is not surprised by the ruling.
"Today's ruling is bittersweet, because there is no fiercer advocate for budget autonomy in the District of Columbia than me," he said. "As I have said all along, we need to gain the freedom to spend our own money legally."
Norton (D), a recognized constitutional law expert, said that working through Congress is the right path to budget autonomy.
"Today's decision adds new urgency and necessity to moving our budget autonomy bill, which has bipartisan, bicameral support here in Congress and from the president," Norton said. "Whatever the final outcome of the council's friendly litigation, it should help us bring the attention of the nation to the obligation of Congress to allow the District to control its locally-raised revenue, like every other jurisdiction in the U.S. — a central feature of democratic self-government in our country."
D.C. Council Chairman Phil Mendelson (D) said that he is considering whether to appeal Sullivan's decision.