Ward 8 Farmer's Market Opens at THEARC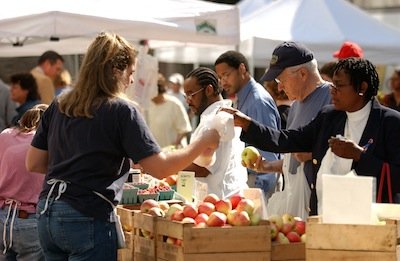 A grand-opening celebration for the new Ward 8 Farmer's Market will be held from 9 a.m. to 2 p.m., Saturday, June 7 in the parking lot of THEARC community center on Mississippi Avenue in Southeast.
The celebration coincides with the center's annual Community Wellness Fair, which will take place simultaneously at the location.
Participants will be able to engage in several activities, including Zumba and tai chi lessons, cooking demonstrations hosted by Whole Foods and a tour of THEARC's Organic Teaching Garden.
In addition to a musical showcase and prize giveaways, face painting, a moon bounce and free books will be available to children.
According to the District Department of Health, only 32 percent of Ward 8 residents consume fresh fruits and vegetables, largely due to inaccessibility and cost. In order to meet the needs of city residents, market vendors will accept WIC, SNAP and senior vouchers.
The market will reintroduce Ward 8 residents and others to a variety of organic fresh organic fruits and vegetables after the Yes! Organic Market on Pennsylvania Avenue closed two years ago.
For more information, visit http://www.thearcdc.org/events/ward-8-farmers-market-opening-community-wellness-fair.